London is a great place for whisky lovers. Uncover unique and rare whiskies, find our more about the amber liquor at talks and whisky tastings, or just relax in a bar or lounge with a dram or two after a meal in one of London's restaurants.
The Whisky Lounge at Hilton London Metropole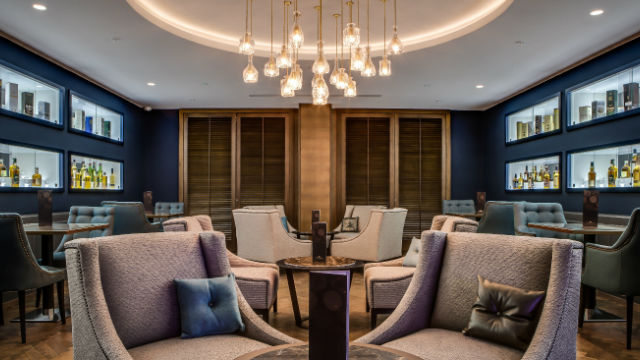 This lounge in Hilton London Metropole is so whisky-focused, it even features decanters as light fittings. The bar is flanked on either side by display cabinets showcasing more than 70 whiskies. "Whisky Flights" are available for novices to "tour" the best of Scotland, or the best picks from the rest of the world. There are unusual bottles to sample, such as Indian whiskies; while arguably the pick of the bunch is a Johnnie Walker Odyssey Triple Malt served from a showstopping swinging decanter.
Golden Arrow at Pullman London St Pancras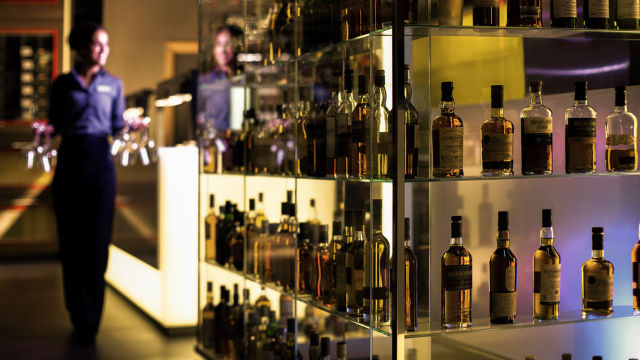 With around 200 whiskies, Golden Arrow at Pullman London St Pancras is the perfect place for a wee dram. Try one of the organised monthly tastings or ask their resident whisky expert for advice on the perfect bottle to match your tastes. This chic restaurant and bar has an airy feel, with attention drawn to the fabulous glass display case of whiskies – some of which are limited editions.
Boisdale Canary Wharf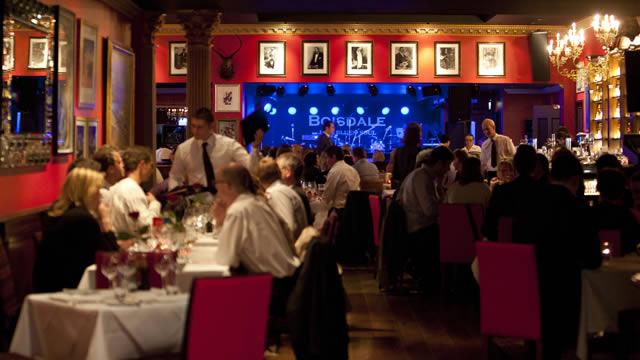 As we all know, the home of whisky is Scotland and there's no more Scottish home-from-home in London than Boisdale Canary Wharf. This Docklands restaurant, jazz club and bar is loved for its meaty treats (including haggis) and live music, but it's the 12m backlit back bar that's possibly the most impressive aspect. More than 1,000 bottles of amber deliciousness adorn the shelves, representing 400 varieties of whisky – some of which were produced by distilleries that no longer exist. If you can't find a whisky you like here, you're not a fan of whisky. Whisky is also central to the drinks offering at sister restaurants Boisdale of Belgravia, Boisdale of Bishopsgate and Boisdale of Mayfair.
The Hyde Bar at The Park Tower Knightsbridge
Select from more than 130 premium whiskies at this stylish hangout within The Park Tower Knightsbridge hotel. Grab a seat at the bar to browse through The Hyde Bar's drinks menu featuring Scotch, Japanese and Canadian whiskies alongside lesser-known Taiwanese, Swedish and Indian tipples. If none of those take your fancy, opt for a bourbon or a whisky cocktail. There's also a fine choice of cigars at this classy establishment.
The Bar at The Athenaeum
This classy Piccadilly hotel's bar features more than 100 versions of the grain-based liquor. The intimate hideaway serves bar snacks alongside various whisky-based cocktails and straight up whiskies. Whisky-lovers of all sorts will be catered for at The Athenaeum, with a large menu of malted and blended Scottish whiskies, as well as Irish, North American and Japanese bottles – there's also the chance to try the more rarefied English and Dutch tipples.
The Bar & Grill at Coq d'Argent
Located in the heart of the City, the Bar & amp; Grill at Coq d'Argent offers over 70 different blends of whisky, including a collection of Japanese whiskies. Enjoy your whisky with a snack or tapas from the bar menu, while enjoying the view across London from the heated rooftop garden.
East London Liquor Company
Housing its own distillery behind the bar, this East London venue serves both its own and imported gins, rums and vodkas. Although East London Liquor Company's own whiskies will not be available for a while yet, it serves 50 tipples from around the world and hosts bespoke tasting events. On the site of an old glue factory in Bow and with an industrial décor in keeping with its heritage, this bar provides a great chance to learn about the distilling process.
Salt Whisky Bar and Dining
Take your pick from the 200 whiskies and bourbons on offer at Salt Whisky Bar and Dining, near Marble Arch. This modern lounge bar and restaurant has a vast array of Scottish whiskies and American bourbons, as well as a good choice of Irish, blended and Japanese bottles – try a mix at regular tastings. Unsurprisingly, given the restaurant's focus on Indian cuisine, there are even Indian whiskies to discover.