Whether you love Japanese food or are more into Spanish cuisine, find the best places to eat in and around Old Street below – an area bordering two of the coolest and most eclectic neighbourhoods in London: Islington and Shoreditch.
1. Nobu Shoreditch
Feast on top-notch Japanese fare and spot a celeb or two at Nobu's third London restaurant, which is co-owned by Robert de Niro. Sample signature dishes including black cod miso and yellowtail sashimi with jalapeno, enjoy exquisite cocktails in the sleek bar or escape to the tranquil garden for a more intimate setting.
2. Leroy
Located in a former wine bar, Leroy manages to combine Michelin-starred fine-dining with a relaxed atmosphere. Dine on deeply flavoured modern dishes using seasonal produce, such as pumpkin ravioli with spiced butter, steak tartare on toast or smoked eel with a celeriac remoulade and hazelnuts.
3. The Princess of Shoreditch
Tucked away a stone's throw from Old Street, The Princess of Shoreditch is a lovely unpretentious gastropub serving beautifully presented, seasonal British dishes in a laid-back atmosphere. The Princess has won its fair share of awards and is arguably one of the best and most reasonably priced gastropubs in London.
4. Hoxton Grill
For classic American grills and more (think chicken wings, lobster and mac and cheese), check out Hoxton Grill, a Chicago-style restaurant set within the trendy Hoxton Hotel, with comfortable banquette seating, a chilled vibe and an old-fashioned bar serving delicious cocktails.
5. On the Bab
From Korean fried chicken and spicy pork buns to beef or veggie bibimbab, sample all sorts of incredibly tasty Korean street food at On the Bab on Old Street. Perfect for a quick lunch on the go or late-night snacking.
6. Aviary London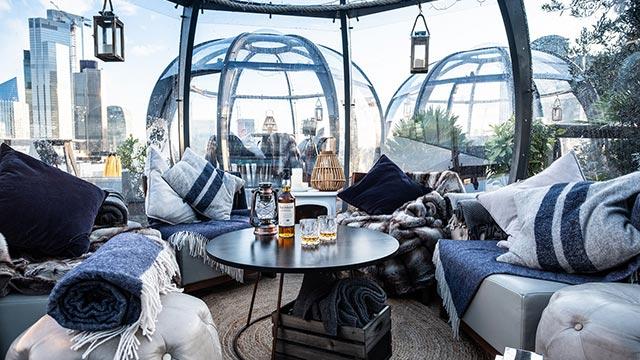 Marvel at the London skyline while tucking into grilled meat or fish with a botanical-themed cocktail in hand, on Aviary London's rooftop terrace. Perched on the 10th floor of the Montcalm Royal London House hotel on Finsbury Square, Aviary is just a short walk from Old Street Tube station.
7. Haché Shoreditch
Back to street food with a chic and playful take on juicy burgers at Haché Shoreditch. Burgers are served in freshly baked brioche or ciabatta buns and range from the classic Haché cheeseburger to 'steak Canadian', 'steak truffle', 'chicken malibu' and several vegan patties.
8. Gloria
Head over to Capri-style trattoria Gloria for tasty Italian classics and a buzzing atmosphere. Savour everything from oozing pesto heart burrata to Neapolitan pizza, and keep some space for dessert, with treats like moreish homemade gelato and tiramisu on the menu.
9. Tapas Brindisa Shoreditch
More into Spanish food? Order a range of classic tapas such as tortilla, Iberian ham croquettes, patatas bravas and spicy chorizo at popular Spanish restaurant, Tapas Brindisa Shoreditch.
10. Flat Iron Shoreditch
Tuck into a perfectly cooked flat iron steak served alongside a selection of tempting sides and sauces at Flat Iron Shoreditch. Using meat sourced from its very own herd of rare and traditional beef cattle raised in Yorkshire, Flat Iron is a steak-lovers' paradise with a simple ethos: no-nonsense cooking of quality produce.
Explore by category