London Gatwick (LGW) is the most efficient single-runway airport in the world, serving 200 destinations in 90 countries for 35 million customers a year.
LGW is located 45km (28 miles) south of London. To see the airport's exact location, visit the London Airports Map.
Gatwick Airport's two terminals, North and South, both have a comprehensive selection of shops, bureaux de change, help desks and left-luggage facilities.
For Gatwick flight departures, check-in desks can be found on the 3rd floor of both the North and South Terminals. All passengers must clear security control before entering the departure lounge where you'll find shops, bars, cafes and currency exchange. Boarding begins 45 minutes before take-off.
For Gatwick flight arrivals, you'll first pass through passport control after leaving the aircraft. Then follow the signs for Baggage Reclaim to pick up your luggage, before going through Customs. In the arrivals hall, you'll find shops, bars, restaurants and currency exchange.
Gatwick Hotels
There are an excellent range of hotels in the Gatwick area. Many provide a courtesy coach service from Gatwick rail station, which is directly linked to Gatwick's South Terminal. See our Where to Stay section to find and book a hotel near Gatwick Airport.
Buying Oyster Cards at Gatwick Airport
If you are going to be in London for more than a day, it's worth booking a Visitor Oyster Card in advance. The Visitor Oyster Card is delivered to your home before you arrive in London. It is one of the easiest ways to get around London.
If you do not have a Visitor Oyster Card, but still plan to travel around London for more than a day, buy an Oyster card at the Concierge outlets in Gatwick North Terminal or Gatwick South Terminal. You must exit through Customs first. You can also buy an Oyster Card at the Skybreak Service Centre in both terminals and at the Gatwick Airport train station.
Learn more about Oyster Cards.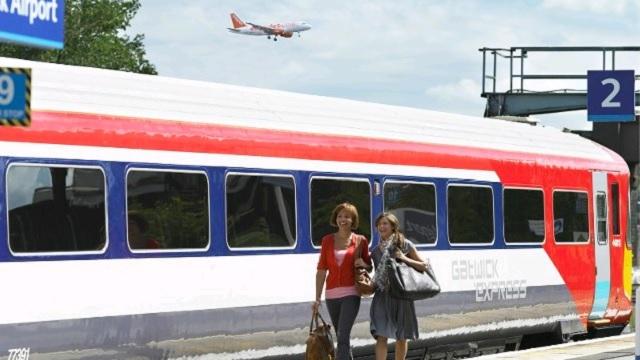 Travelling To Gatwick Airport to London By Train
There are many different trains to London from Gatwick airport.
The Gatwick Express is the fastest way into Central London. Trains run every 15 minutes between Gatwick Airport's South Terminal and London Victoria Station every day from 4.35am to 1.35am. Journey time is 30 minutes and the service is non-stop to Victoria station.
Thameslink provide direct trains from Gatwick Airport to Blackfriars, City Thameslink, Farringdon and St Pancras International that leave four times an hour. 
Southern also offers regular train services during the day from Gatwick to London Victoria via East Croydon and Clapham Junction.
Travelling To Gatwick Airport By Coach
National Express runs frequent services between Gatwick and Victoria Coach Station. Coaches run approximately every 30 minutes. Journey time varies according to route, most are about one hour 20 minutes. Some services stop at Hooley, Wallington, Mitcham Junction, Mitcham London Road, Streatham, Stockwell and Pimlico.
easyBus also offers a high-frequency, low-cost express bus service between Gatwick Airport and Earls Court/West Brompton. The easyBus service runs throughout the day and night, direct with no stops. The journey takes just over one hour.
Taking A Taxi To Gatwick Airport
There are usually taxis queuing for customers at London's airports. Only use a black cab or reputable mini-cab and never use unauthorised drivers. The official Gatwick taxi concession is Airport Cars Gatwick. You can ask the driver for an estimate of how much your journey will cost beforehand. Find out more from the TfL taxi fares page.
If you'd prefer to drive along the roads of Central London yourself, then you can hire a car at the airport. You can also find out where to park your car in London on the NCP website.
Accessible Transport
The Gatwick Express rail service has a range of features to make travelling easy for everyone, including dedicated areas for passengers with wheelchairs. For information visit the Gatwick Express website.
Southern provides assistance boarding and alighting from trains, and will alert station staff to the needs of disabled travellers. The company also provides a free taxi service for disabled travellers at stations with restricted access, which takes them to the next accessible station on their route. More information on the Southern website.
First Capital Connect's staff are trained to help passengers with accessibility requirements. You should contact them at least 24 hours before travelling. Visit the First Capital Connect website for more details.
National Express can help with accessibility requirements if you contact them at least 36 hours before you are due to travel. For more details see the National Express website.
Concierge Services
Diamond Air offers a bespoke "Meet and Assist" service straight from the airport on the day of your arrival to your home, hotel or office.