London Spas and Health Centres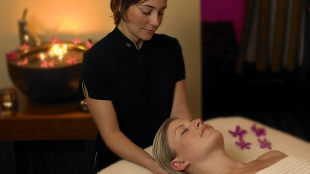 Relax and indulge at one of London's many spas and health centres. With a range of delights on offer from massages to body wraps, to aromatherapy and beauty treatments with luxury products, why not spoil yourself. 
Please contact the individual spas and health centres listed below for more information about treatments and prices. 
Spa / Health Centre

The May Fair Hotel, Stratton Street, W1J 8LL [map]

The May Fair Spa Experience.

Spa / Health Centre

Chancery Court Hotel, 252 High Holborn, WC1V 7EN [map]

Spa / Health Centre

66 Knightsbridge, Knightsbridge, SW1X 7LA [map]

The Spa is a health spa located within the Mandarin Oriental Hotel.

Spa / Health Centre

201A-207 Kensington High Street, Kensington, W8 6BA [map]

Spa / Health Centre

132 Commercial Street, Shoreditch, E1 6NG [map]

Spa / Health Centre

1 Thrale Street, Borough, SE1 9HW [map]

Floatworks has 9 floatation tanks available for stress relief and relaxation.

Spa / Health Centre

9 Station Approach, Hayes, Bromley, Kent, BR2 7EQ [map]

Spa / Health Centre

187-189 Lavender Hill, Battersea, SW11 5TB [map]

Lavender Heal is a therapies clinic offering yoga classes, reflexology and pilates classes.

Spa / Health Centre

15 Edge Street, Kensington, W8 7PN [map]

The Life Centre offer a range of alternative therapies and treatments including yoga, homeopathy, holistic medicine, massage, osteopathy, aromatherapy and natural health remedies.

Spa / Health Centre

27 Shorts Gardens, London, WC2H 9AP [map]

Spa / Health Centre

Unit 122, Cannon Workshops, Cannon Drive, E14 4AS [map]

Spa / Health Centre

Rathbone Street, W1T 1NF

Relaxing Studio offer treatments and grooming for men.

Spa / Health Centre

12 Floral Street, Strand, WC2E 9DH [map]

The Sanctuary is a comprehensive day spa for women located in the heart of fashionable Covent Garden.

Spa / Health Centre

Clapham North Arts Centre, 26-32 Voltaire Road, Clapham, SW4 6HD [map]

Spa / Health Centre

120-124 North Street, Town Centre, Romford, RM1 1DL [map]

Simply Floating offer float therapy i-so pod treatments and also tanning treatments.

Spa / Health Centre

2 Pan Peninsula Square, Canary Wharf,