Fantastic Introductory Offer at Indaba Yoga Studio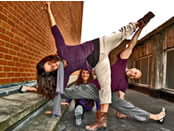 Valid from 22 May 2012 to 31 May 2013
This fantastic introductory offer allows you to sample as many classes as you like within 10 consecutive days. With a fantastic variety of classes on offer, this opportunity to explore the different schools of yoga is unmatched in London!
Indaba cater for all levels, from absolute beginners to advanced practitioners. Not sure what level you should begin with? Phone one of their yoga advisors and they will be delighted to assist you!
Wondering how to get started? It's easy! Simply go to the studio and sign up. If there is a specific class you want to do, arrive 15 minutes before the class and they can show you around their lovely facilities.
For more information visit the website