March is a top time to visit London. There's sporting prowess on the river Thames, the city is full of early spring blooms and patriotic celebrations honour England's neighbours.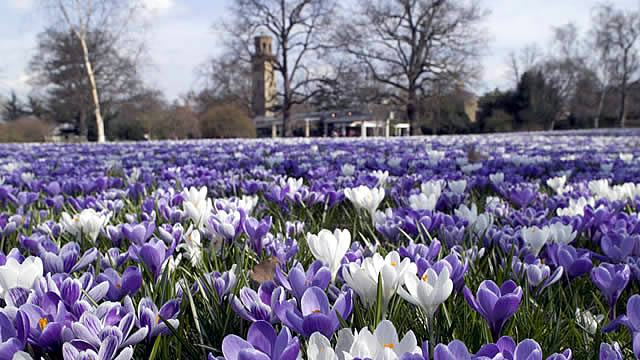 The Oxford and Cambridge Boat Race pits the country's most prestigious universities against each other in a thrilling 8.6 km rowing race on the river Thames, passing west London's picturesque enclaves. This gruelling route is also traversed by elite UK and international rowing clubs – but in the opposite direction – during the Head Of The River Race. March is also when the UK celebrates Mother's Day, and the city offers numerous ways to spoil your mum, including beauty treatments, theatre tickets, afternoon tea, river cruises and shopping opportunities galore. St Patrick's Day may not be a national event, but London has embraced this Irish occasion and presents a spectacular parade through central London, complete with the finest dance, music, crafts and food from the Emerald Isle. Also in March, Trafalgar Square welcomes the Russian Maslenitsa Festival, a celebration of the start of spring and growth. Live music, food and crafts showcase Russia's culture.
The first signs of spring start to appear this month: most notably in the Royal Botanic Gardens, Kew, where its crocus carpet presents a spectacular swathe of purple and white blooms. The animal kingdom also starts to flourish as lambs, piglets, kids and more arrive. Take your own little monkeys to one of the capital's urban farms to see these tiny newcomers in action. Or sample the great British institution of afternoon tea. There is a huge variety to indulge in, from a men's themed tea with whiskey to a fashion- inspired selection of cakes in stylish surrounds. If you fancy something a little stronger, then experience a warm welcome and an expertly poured pint of Guinness in one of the city's many Irish pubs. And don't forget that British Summer Time starts this month, when the clocks jump forward one hour. Discover the history of time with a trip to the Royal Observatory in Greenwich, the home of the Prime Meridian Line, and the centre of world time and space.
WEATHER: For average seasonal temperatures and rainfall, see our London Weather page.