London's public bicycle scheme is a great way to travel around the city - and the first half an hour is free! Grab yourself a "Boris bike" and get riding.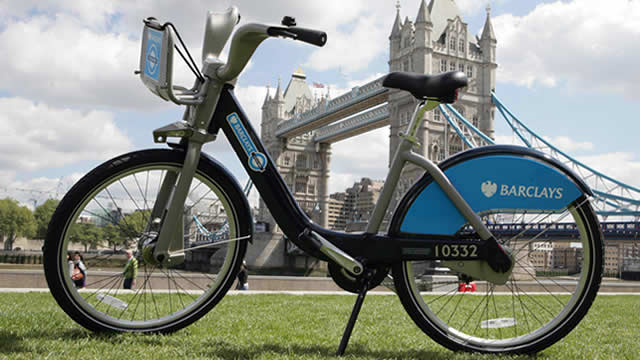 London's Barclays Cycle Hire is a public bike sharing scheme for shorter journeys around the capital. There are more than 8,000 bikes at 570 locations across London. More than 17 million journeys have been made on the bikes since the scheme's launch in 2010.
The "Boris bikes" (named after London's Mayor Boris Johnson) are available to casual users - including non-UK residents - as well as members.
The bikes are easy to hire – simply swipe your membership key, credit or debit card, grab a bike and go. After you've paid your daily, weekly or yearly access fee, your first half-hour is free, with no additional charge provided the bicycle is returned within 30 minutes. Visit TfL's Barclays Cycle Hire web page to find out more. 
When you've finished your journey, just drop the bike back to one of the many docking stations across London. Cycle Hire docking stations are located across nine London boroughs and in several Royal Parks in Central London.
If you want to hire a bike for a full day or longer, it may be cheaper to rent it from one of London's many bicycle hire companies.
How To Join London's Bike Hire Scheme
The easiest way to use a bike is sign up online at TfL's Barclays Cycle Hire web page for a membership key (£3). The scheme is also open to casual users who aren't registered with the scheme. As a casual user, you simply need to swipe your Visa or MasterCard credit or debit card and purchase your access period: either 24 hours or seven days. For more information on casual use see the TfL website.
Cycle Hire Access Fees
£2 one day
£10 one week (7 days)
£90 annual membership
Cycle Hire Usage Charges
Free up to 30 minutes
£1 from 30 minutes to 1 hour
£4 up to 1.5 hours
£6 up to 2 hours
£10 up to 2.5 hours
£15 up to 3 hours
£35 up to 6 hours
£50 up to 24 hours (maximum usage fee)
Penalties and Other Charges
If you don't return your bike, or you bring it back late or damaged, you may be charged up to £300. 
Check www.tfl.gov.uk/barclayscyclehire for more information. 
Barclays Cycle Superhighways in London
Barclays Cycle Superhighways are cycle lanes into Central London from outer London. The bright blue Cycle Superhighways aim to provide cyclists with safer, faster and more direct journeys into the city. Four Barclays Cycle Superhighways have launched:
CS2: Bow to Aldgate
CS3: Barking to Tower Gateway
CS7: Merton to the City
CS8 Wandsworth to Westminster
Eight more of these cycle lanes are planned by 2015.
Visit www.tfl.gov.uk/barclayscyclesuperhighways for more information on London's Cycle Superhighways.