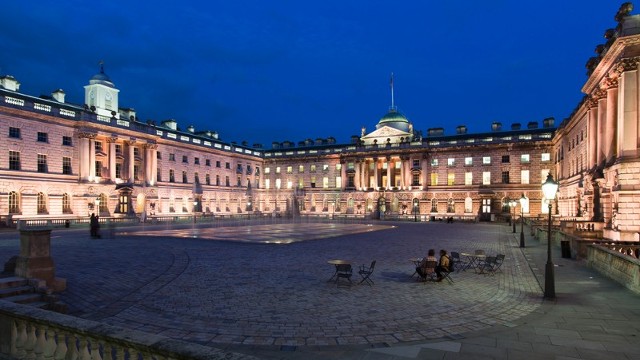 Somerset House es un centro cultural en la orilla norte del Támesis que aloja dos importantes colecciones de arte. El Courtauld Institute of Art alberga las obras de los "antiguos maestros", cuadros del
Más información
A grandes rasgos
Somerset House es un centro cultural en la orilla norte del Támesis que aloja dos importantes colecciones de arte. El Courtauld Institute of Art alberga las obras de los "antiguos maestros", cuadros del impresionismo y postimpresionismo lo mismo que las Embankment Galleries, que alojan un programa de exposiciones itinerantes dedicado al arte, diseño, moda, arquitectura y fotografía.
Información importante
To ensure a safe and enjoyable experience, you can expect to find special safety measures in place due to the coronavirus pandemic. For more information, check direct with the venue ahead of your visit.
Horario de apertura
Free Admission excluding admission to the Embankment Galleries, The Courtauld Gallery or specified events.
Admission may vary. Please check http://www.somersethouse.org.uk/ for further information
Horario de apertura
Somerset House is open every day except 25 December. Admission is free, but you'll need to buy a ticket for some exhibitions and events.
Gallery & exhibition spaces
Monday, Tuesday, Saturday & Sundays 10.00-18.00*
Wednesdays, Thursdays & Fridays 11.00-20.00*
*Check individual exhibition information for other exceptions.
Victoria Embankment entrance
08.00-19.00 daily
New Wing
Monday-Saturday 08.00-23.00, Sunday 08.00-18.00
The Edmond J. Safra Fountain Court
07.30-23.00 daily*
River Terrace and Seamen's Hall
08.00-23.00 daily*
Datos del lugar de celebración y mapa
Somerset House
Dirección:

Strand

London

WC2R 1LA

Teléfono:

+44 (0)20 7845 4600

Correo electrónico

Transporte público:

London Underground: Temple Covent Garden Charing Cross Embankment Waterloo Rail: Charing Cross Blackfriars Waterloo
Eventos en Somerset House