Cycling around London is a great way to save money on transport costs, explore the capital and get some exercise at the same time.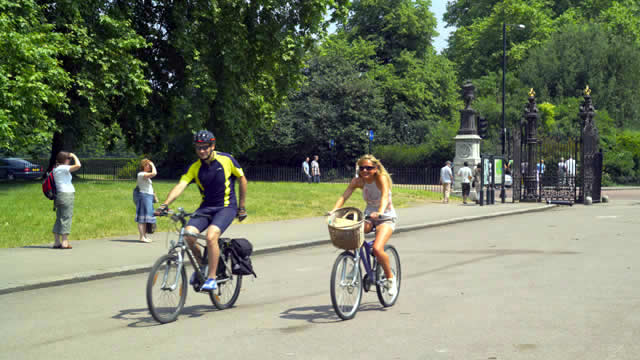 Huge improvements have been made to London's cycling network over the last few years, with more cycle lanes, driver awareness campaigns and extensions to the Barclays Cycle Hire Scheme. With the right safety precautions, cycling is a unique way to experience and enjoy the city.
When cycling through London's busy traffic, it is essential to wear a helmet. Some people also opt for facemasks. It's very important to be seen by other road users, so wear reflective clothing and make sure your lights are working. Safety tips and scenic cycle routes can be found on our London Cycle Paths page and at:
The Transport for London website features a host of useful resources for cyclists. You can order printed guides and maps covering the whole of London, discover new leisure routes, get advice on safety and find out about cycling training sessions. Transport for London's Journey Planner is a handy tool for cyclists as well as those wanting to plan a journey on public transport. Use the advanced options to plan your cycle route.
Disabled Cycling
London Bike Hire
Several companies hire out mountain or hybrid bikes in good condition. Deposits of £100 to £200 are generally required (credit cards are accepted), regardless of rental period. The London Bicycle Tour Company hires bikes at reasonable rates, with lower charges for longer rentals. It also offers daily bike tours of London (weekdays only during the winter season), with or without bike hire. For shorter journeys around the capital, you may also wish to try out a "Boris bike".
Bicycles on London's Public Transport
You can take a folding bike anywhere on the Tube
Folding bikes may be taken without restriction on all Tube lines, river services, London's local trains, the Docklands Light Railway, and London's Tramlink. You can even take a folding bike on buses, at the driver's discretion. Outside peak times, non-folding bicycles may be taken on the following Tube lines: District, Circle, Hammersmith & City and Metropolitan, and on some sections of other lines. (Peak times are Monday to Friday 7.30am-9.30am and 4pm-7pm.) Non-folding bicycles can also be taken on some sections of the London Overground network. For more details, visit the Transport for London website
Restrictions on taking folding and non-folding bikes on national trains vary from company to company, so check with your train provider before setting out. For contact details visit the National Rail Enquiries website
London Pedicabs 
Pedicabs are three-wheeled cycle rickshaws that seat two or three people. London's pedicabs tend to operate in Central London, around Soho and the West End. The best-known companies are Eco Chariots and Bugbugs, both of which monitor riders and are insured. However, this is not always the case with other pedicabs and you are advised to check safety features and insurance before boarding.