King's Cross and St Pancras, London
The area of King's Cross in London has seen a great deal of development during the past few years. Step off the Eurostar and explore one of London's most exciting areas.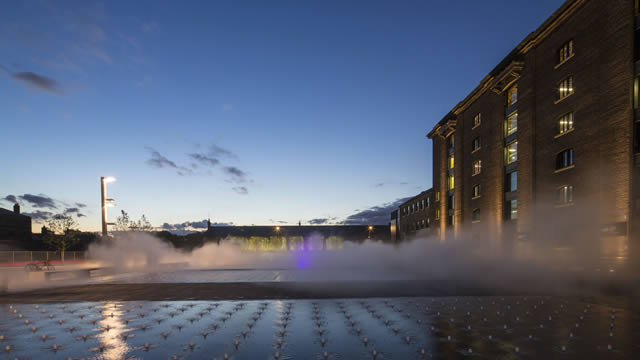 Previously known as Battle Bridge, King's Cross was named after a huge monument of King George IV from 1835, which stood where the railway station is now. King's Cross station was designed by the architect Lewis Cubitt and opened in 1852.
Following the Second World War, this busy industrial district underwent economic decline. By the 1990s, the area around King's Cross was in need of regeneration. The King's Cross Partnership was established to fund regeneration projects. When work on the High Speed 1 rail link started in 2000, this provided the impetus for other projects.
Now the first stage of the King's Cross regeneration is open to the public. With 50 new buildings, 20 new streets and 10 new public squares, this is one of London's most dynamic and exciting areas. Eurostar now departs from St Pancras International station; a major new arts venue, Kings Place, has opened; Central St Martins art college has relocated to the area; and Google's UK office is due to move here in 2016.
You can find out more about the current redevelopment at the King's Cross Visitor Centre.
Eurostar: King's Cross and St Pancras International
St Pancras International is home to Eurostar, London's high-speed rail link with Paris, Brussels and continental Europe. Businesses have flocked to the area following the £800m restoration and extension of the station. One of its crowning jewels is the exquisite St Pancras Renaissance Hotel. Originally built by Sir George Gilbert Scott, it was saved from demolition by Sir John Betjeman, despite his comment that it was "too beautiful and too romantic to survive".
St Pancras station is also a great place for shopping. Pick up last-minute gifts, gourmet food, clothes and accessories. You'll find everything from Hamleys and Neuhaus to LK Bennett. Stop off at Europe's longest champagne bar for a well-deserved drink afterwards!
King's Cross station has also recently been restored; a prominent new feature is a stunning extension of its arched glass roof. An open-air piazza is due to be completed in August 2013.
Culture in King's Cross
Relatively cheap rents and a central London location made King's Cross attractive to artists and designers. Both Antony Gormley and Thomas Heatherwick established studios in the area. Central St Martins College of Art and Design has taken up residence in the Granary Building, which looks out over Granary Square, a new public space decorated with more than 1,000 coloured fountains.
King's Cross has welcomed an increasing number of attractions and cultural establishments. A major new arts centre, Kings Place, opened next to the Regent's Canal in 2008. The London Sinfonietta and the Orchestra of the Age of Enlightenment are both based here, alongside the Pangolin Sculpture Gallery. Kings Place hosts numerous art, music, live comedy and cultural events throughout the year.
The British Library is located next to St Pancras Station, displaying some of the world's most famous written and printed items, such as the Magna Carta (1215) and Shakespeare's First Folio. Nearby, the London Canal Museum commemorates the importance of London's canals. And King's Cross Filling Station, a former petrol station by the canal, now hosts a programme of cool cultural events as well as a bar and restaurant.
The fascinating Foundling Museum tells the story of the Foundling Hospital, London's first home for abandoned babies. The cutting-edge Gagosian Gallery moved its main London premises to King's Cross in 2004. The area also features a number of theatres, including the Shaw Theatre and the Bloomsbury Theatre.
The Camley Street Natural Park is a great way to escape the hustle and bustle of King's Cross: spot wildlife, relax by the pond and learn more at the park's visitor centre. The peaceful St Pancras Old Church is also worth a visit: look out for the Grade I listed mausoleum of Sir John Soane, which inspired the design of London's red telephone boxes.
Eat, Drink and Party in King's Cross
King's Cross is full of lively bars. Try Simmons, The Lexington or Drink, Shop, Do. If you're feeling peckish, head to Caravan, Camino, the Betjeman Arms, The Fellow, Canal 125 or Rotunda. For a quick snack at lunch, the Sourced Market in St Pancras International station offers a diverse range of gourmet foods.
Alternatively, the St Pancras Renaissance Hotel is the perfect place to treat that special someone: take them for drinks in the Booking Office bar, or for a meal at The Gilbert Scott. You'll also find an all-day restaurant, Plum + Spilt Milk, in the historic Great Northern Hotel, London's first railway hotel.
King's Cross is a great place to party! The Scala and the Big Chill House are both in close proximity. Venture a bit further north for Egg, a three-floor club venue with a great outdoor area for lounging.
King's Cross is just a short walk from Euston Station – find out more about hotels and attractions near Euston.