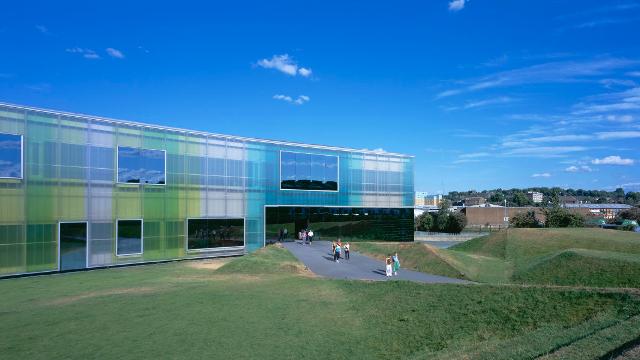 Laban Building is a cutting-edge venue in the heart of South East London, just outside the lively, historical town centre of Maritime Greenwich. As the largest contemporary dance centre in the world, Trinity
Mehr erfahren
Übersicht
Laban Building is a cutting-edge venue in the heart of South East London, just outside the lively, historical town centre of Maritime Greenwich. As the largest contemporary dance centre in the world, Trinity Laban primarily offers professional training to up-and-coming dancers, and now housed in a new RIBA Stirling Prize winning building, also offers its facilities for hire, for inspirational corporate events. The new London landmark was designed by Herzog and de Meuron, the Pritzker Prize winning Swiss architects who also designed the Tate Modern in London and the National Stadium or "Bird's Nest" in Beijing (2008 Olympic Games).
Spaces are available to hire both inside and outside, and include a 300-seat theatre and 12 large studios offering bright, ultra-modern solutions for events requiring creative, inspiring settings. Receptions for up to 300 can be held in the chic foyer space, while the grounds, designed by Vogt Architects, offer an impressive setting for outdoor events or displays, with the building providing a breathtaking backdrop.
Details zum Veranstaltungsort und Karte
Laban
Adresse:

Creekside

London

SE8 3DZ

Telefon:

+44 (0)20 8305 9400
Yelp-Rezensionen
9.00

von

5


Basierend auf

3

Rezensionen
Top 3 Rezensionen von
Laban
A stunning building well worth a look. Winner of the RIBA prize for architecture it looks somewhat like a lego building nestled in teletubbie land. Which is what makes it so unique and interesting!
If in Greenwich or Deptford, pop along and have a look and pretend to be a dancer and roll around the grass of the outdoor amphitheatre. Mehr erfahren
Architecturally, the external appearance gives the otherwise dull and uninteresting surrounding some sparks! I love the journey and the anticipation before seeing the building in a somewhat dodgy part of Greenwich. The building is very much the façade. It has one of the most appropriate façade I have ever seen, created by the collaboration of visual artist Michael Craig-Martin and architect... Mehr erfahren
A close comerade studied here and so Laban and I became acquainted.
The building itself is epic. At times it almost seems as if it fights with the creativity it provides home to but though sometimes harsh, the vivid shades and strong lines are fun and often surprising. Overlooking this run down area of the river, the building surveys its surroundings with a sweeping contemporary arc. This... Mehr erfahren