Whether you're looking to meet other London backpackers or simply looking for cheap accommodation, London hostels offer great value for money with a wide range of prices, locations and services.
Make memories at these unique hostels in London, including the chance to stay in a former prison cell, Victorian mansion or a cool converted warehouse.
Content contains affiliate links – marked with asterisks. If you click through and make a purchase, Visit London receives a commission which is put back into our work promoting London.
Design hostels from your Instagram dreams
Get your phone at the ready, these hostels are begging to be snapped with stunning interiors and quirky features.
1. Generator Hostel London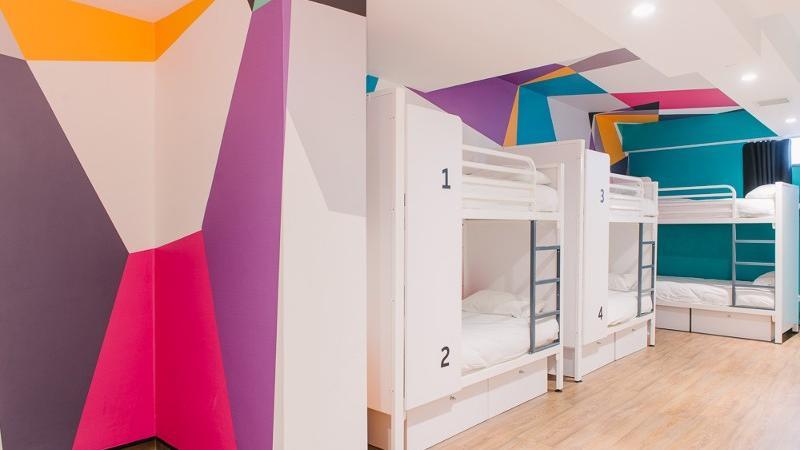 Relax in style after an adventure-filled day at Generator Hostel London. This chic hostel near King's Cross features picture walls, painted pianos, big splashes of colour and a model of a Routemaster bus.
It's not all style over substance, however – there's a games room, a bar and lots of chill-out areas where nightly events take place. The female-only room also comes with a dressing table in addition to the usual bedside lamps and lockers.
2. The Dictionary Hostel
Get ready for a photo shoot at this cool converted warehouse in Shoreditch – The Dictionary Hostel's neon signs, potted plants, bedroom swings and poster-filled walls provide plenty of excuses to get camera happy.
Take the shoot outside and explore the area's colourful street art, flower markets and coffee shops.
3. Rest Up London
Saving your cash doesn't mean scrimping on style at Rest Up London. This cheap London hostel features beautiful tiles, Chesterfield sofas, Banksy-inspired art and plenty of Union Jacks.
Refuel with traditional British dishes in the cafe, chill out on colourful bean bags on the terrace or explore the burgeoning foodie scene in neighbouring Elephant and Castle.
Social hostels for the solo traveller
Meet fellow travellers at these friendly spots, suitable for those looking for a party hostel or lots of organised activities.
4. Wombats City Hostel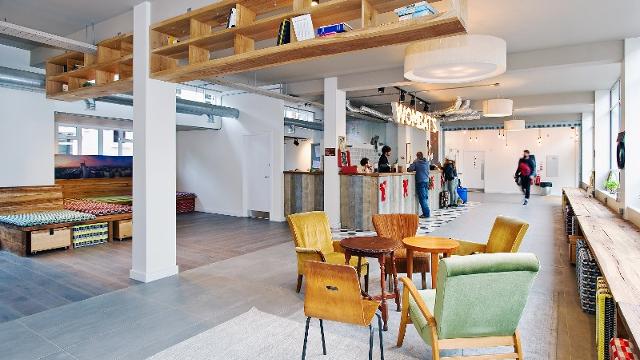 Make new friends in one the many common areas at Wombat's City Hostel London. Cook free pasta in the kitchen, hang out in the modern common area, or have a game of table tennis in the vaulted brick bar.
With Tower Bridge, the Tower of London and City Hall just a short walk away, it's easy to enjoy a spot of sightseeing during your stay.
5. St Christopher's Village
Party until the early hours at St Christopher's Village, with live music and DJ nights at the onsite night club. Or, try out one of the many pubs and bars around London Bridge after feasting on food from nearby Borough Market.
When you're ready to crash, snuggle up in your own private capsule with USB ports, curtains for privacy and mood lighting.
Charming hostels with a sense of history
Looking for old London charm? These hostels tick all the boxes with Victorian mansions, shining suits of armour and beautiful original features.
6. Palmers Lodge Swiss Cottage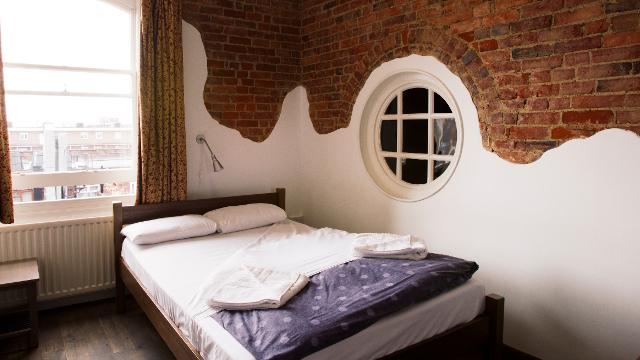 Step back in time at Palmers Lodge Swiss Cottage. This beautiful mansion retains its Victorian flair with grand fireplaces, wooden beds and a stunning staircase complete with a suit of armour.
Continue soaking up historic charm at one of the many traditional pubs with roaring fires and real ales in nearby Hampstead.
7. Clink 78
Get a slice of British history at Clink 78, a former Victorian courthouse near King's Cross where Charles Dickens once worked and The Clash stood trial.
Sleep in a real cell, watch a movie in one of the original courtrooms, or explore the local area, with the British Museum less than 20 minutes' walk away.
8. Astor Hyde Park
Stay in fashionable Kensington with backpacker prices at Astor Hostel Hyde Park. This budget-friendly hostel is in a townhouse with a stunning redbrick facade. Inside, find a unique mix of modern decor and original features, including wood panelling.
Find the Royal Albert Hall and some of London's best museums just a short stroll away.
Check out more cheap places to stay in London, including bed and breakfast accommodation and camping, or find more hostels on hotels.london*.
Explore by category