Published monthly, London Planner is London & Partners' official visitor guide to England's capital. The London Planner is available all over the UK from Tourist Information Centres and at selected London outlets.
London Planner: July 2019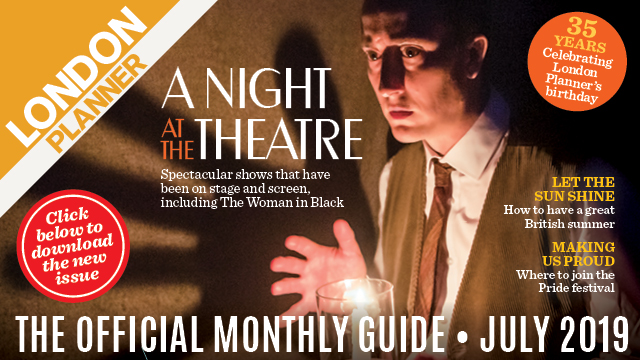 Download July's London Planner [PDF 15.6 MB]
Celebrate London Planner's 35th birthday by exploring its history in this month's issue. Discover how to make the most of summer like a local, with alfresco dining tips and a guide to the best outdoor cinemas in town. As Woman in Black marks its 30th anniversary, read about shows that have been inspired by novels and the screen. Plus, find the biggest events, from music festivals to Pride in London.
London Planner's video guides
Watch more videos on London Planner's YouTube channel.
Where to pick up a copy of London Planner
100,000 copies are distributed across the UK and in London:
3 and 4-star hotels
Eurostar – in the departure lounges and on board from Paris, Brussels, Lille, Lyons and Marseilles
Eurolines in France
Tourist Information Centres across Britain
Hotelworld information and booking Media Centres (formerly lastminute.com)
First Scot Rail
Transport for London Information Centres
Key tourist hotspots – Tower of London and the British Museum
Original London Visitor Centre, Trafalgar Square
Select flights from Europe, Americas, Asia Pacific, Middle East and Africa
South Bank, London Bridge and Bankside Mobile Visitor Information Unit (seasonal)
Virgin Trains First Class lounges around the country.
Subscriptions:
Contact Graham Randell on +44 (0)20 7611 4669 or email: graham.randell@morriseurope.com
Further information and contact details
Morris Visitor Publications
2nd Floor Samuel House, 6 St. Alban's Street, London SW1Y 4SQ
Editorial enquiries: Kohinoor Sahota
Tel: +44 (0)20 7611 78850