Make the most of Chinese New Year in London by following our top tips for fun and hassle-free celebrations, whether you're attending the Chinese New Year events or eating at one of Chinatown's restaurants.
1. Check the date
In 2018, Chinese New Year falls on 16 February. The date is yet to be confirmed for the main Chinese New Year festivities in London, which take place in Central London (in Chinatown and the West End) and feature a colourful parade and performances in Trafalgar Square. Check back nearer the time for the latest news about the 2018 events.
2. Plan your journey
It's the biggest Chinese New Year celebration in the world outside Asia, so be prepared for lots of people. If you don't want to miss the fantastic celebrations, plan your journey in advance to avoid congestion using Transport for London's Journey Planner and follow our travel guide. Don't even think about driving! If you'd rather stay within walking distance, book one of these hotels near Chinatown.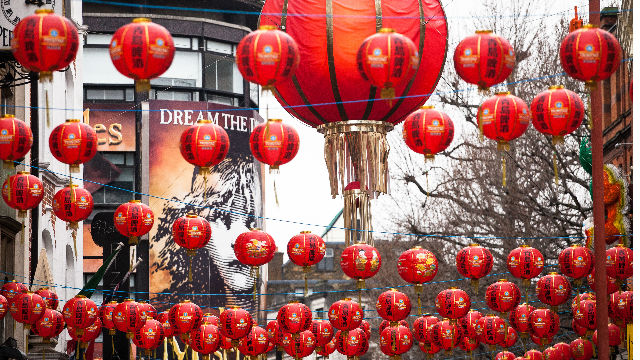 3. Wrap-up warm and forget the heels
You'll be on your feet all day, so wearing sturdy shoes and being comfortable and warm is key to a fun day out. Remember to bring an umbrella in case it's raining. You'll probably be taking photos or holding decorations all the time, so make sure to wear a pair of warm gloves.
4. Learn Chinese New Year greetings
People will say "Happy New Year" to you mainly in Cantonese and Mandarin. It's polite and fun to respond in the same language. To say "Happy New Year" in Cantonese is "San Nin Faai Lok" (pronounced san knee fy lock) and in Mandarin is "Xin Nian Kuai Le" (pronounced sing nee-ann koo-why ler).
5. Honour Year of the Dog
In 2018, the lunar calendar sees the arrival of the Year of the Dog. The Chinese zodiac decrees that people born this year are loyal, faithful and courageous – people born in 1934, 1946, 1958, 1970, 1982, 1994 or 2006 were all born in the Year of the Dog. You'll find out more about the Year of the Dog during the festival, which is a fantastic opportunity to get close to Chinese culture.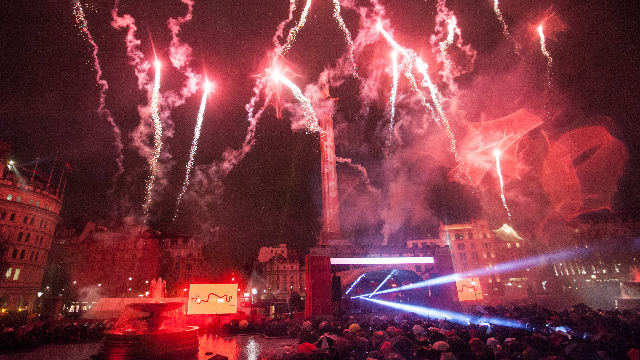 6. Dress up
Red is the key colour of Chinese New Year. You can dress up with a red scarf, jumper or shoes – this will bring good luck for the coming year. If you're taking your kids to the event, let them bring dog decorations or paint their faces with dog motifs.
7. Enjoy Chinese food at Chinese New Year
If you want to enjoy Chinese New Year Cantonese-style, order a whole chicken dish and a fish dish. The whole chicken dish means "happiness for the whole family" and the fish dish means "may there be surpluses every year". If you're following Northern Chinese culture, you should opt for dumplings. Book a Chinese restaurant in Chinatown ahead to beat the herds, or take a look at our Top 10 Chinese restaurants in London.
8. Buy something red
To bring luck to your year, Chinese tradition dictates that you should buy something red for yourself or your house. London's Chinatown is a fantastic place for authentic Chinese shopping. Paper-cut window grilles, lanterns and dog toys are all ideal decorations to have for celebrating Chinese New Year and bringing good luck. Find out more about the traditions of Chinese New Year.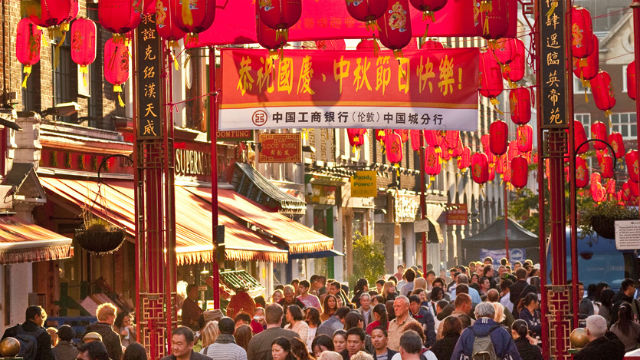 9. Stay safe
Chinese New Year celebrations are lively, fun and welcoming, with dragon dances, stage shows, a Chinese New Year parade and lion dances to enjoy. However, like with any large event in London, staying aware and alert is important. Avoid pickpockets by keeping your valuables out of sight and out of easy reach. If you can, steer clear of congested streets or wait until the blockage has cleared. And if you have any worries, inform police officers, who will be present on the day. Read our top tips on staying safe in London.
10. Ensure good luck
If you want to immerse yourself in the complete Chinese New Year experience, continue the celebration after the event by going somewhere high. In Chinese culture, "climb high and gaze far" on New Year's Day or the following day brings good luck in business, career, study and fortune. So go to places such as The London Eye, The Shard or ArcelorMittal Orbit; or head for one of these vantage points.