From cool drive-in theatres and outdoor cinemas to unique and unusual cinemas, London has a lot to offer to movie buffs.
Here's where to watch all-time classics outdoors. Remember, outdoor cinemas are seasonal, so viewing opportunities vary!
Best open-air cinema experiences
Openaire Float-In cinema by Häagen-Dazs
Hop aboard your very own boat for one of London's coolest cinema experiences with the Openaire Float-In cinema by Häagen-Dazs. Sail along the capital's canals before watching a film of your choice on the water and indulge in tasty snacks.
Hideaway Cinema
Spend a summer evening under the stars with
Hideaway Cinema
's open-air film festival. Head over to
Hampstead Heath
or
Kew Gardens
to catch blockbuster movies, kid-friendly films and sing-along screenings.
Adventure Cinema
Setting up camp in the magnificent Osterley Park and Gardens, the Adventure Cinema showcases classic musicals including Mamma Mia! to get the whole family grooving.
Luna Cinema
Sit beneath the stars and enjoy classics from any decade or indulge in this year's biggest hits at the Luna Cinema, which tours some of the most beautiful locations in London.
Best rooftop cinema venues
Bar Elba
Catch a flick at Bar Elba's rooftop cinema in Waterloo during the warmer months. Order some tasty snacks and a cocktail, sit back and enjoy the film in this cool alfresco spot.
Rooftop Film Club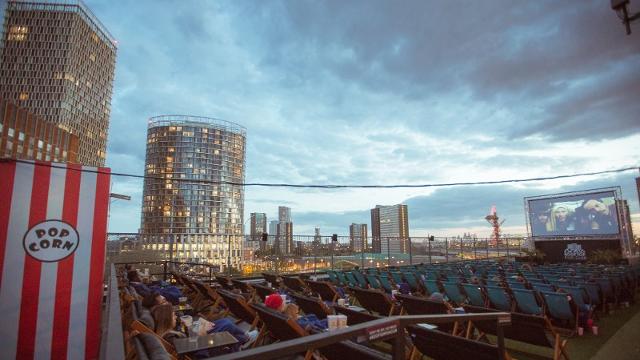 Explore by category