Morning: British Museum and Tate Modern
With an amazing collection of eight million objects dating back as far as two million years, there's plenty to see at the British Museum. Highlights include the Rosetta Stone, Parthenon sculptures and the Mummy of Katebet.
Join in with activities and talks taking place on the day of your visit, and enjoy a light lunch at the Great Court Restaurant. Alternatively, refuel at nearby Shoryu or Cabana.
If you prefer exploring the contemporary to the ancient, start your day at Tate Modern. This famous gallery on London's South Bank displays exhibitions by some of the world's top artists.
At Tate Modern, there are three eateries where you can have lunch: two restaurants and a riverside cafe. The Kitchen and Bar Restaurant boasts sweeping views of the City of London, while the Level 9 Restaurant serves up contemporary fare using seasonal British ingredients.
Afternoon: National Gallery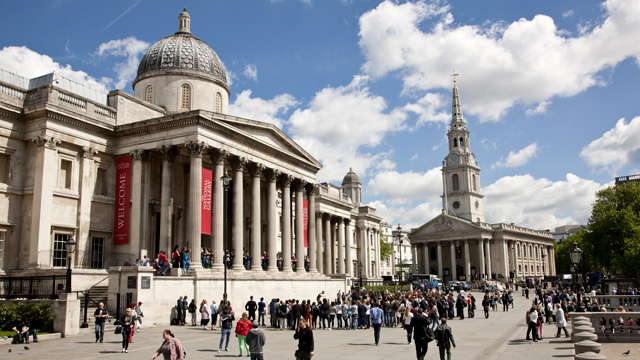 From Tate Modern, walk along South Bank and over the Jubilee Walkway to Trafalgar Square, home to two of London's top galleries – the National Gallery and the National Portrait Gallery.
Explore the National Gallery's incredible collection of western European paintings from the 13th to the early 20th century. Highlights include paintings by Van Gogh, Botticelli, Da Vinci, Constable, Rubens, Vermeer and Cézanne.
Then, wander through St James's, stopping off at small-scale and independent galleries such as Cristea Roberts Gallery, Simms Reed and Stern Pissaro, which are full of art treasures. Or discover the latest exhibition at White Cube in Mason Yard, one of the leading contemporary galleries in the capital.
It's then a short stroll to Piccadilly, where you can spend hours exploring the Royal Academy of Arts. Founded in 1768, this art institution holds an annual Summer Exhibiton as well as blockbuster shows and free exhibits. Relax in the outdoor Courtyard Café or enjoy coffee and cake indoors in the RA Café that's decorated with murals by Royal Academicians.
Evening: Whitechapel Gallery
From central London, go off the beaten track and explore the vibrant art scene of east London.
The Whitechapel Gallery, near Aldgate East Tube station, is the place to go to see contemporary and 20th-century art from around the world. Check out the Whitechapel Gallery events programme to see what's happening on the day you visit, including talks, film screenings and performances.
Finish your day off with dinner at Townsend, a restaurant, cafe and wine bar, which serves a delicious menu of seasonal British produce.
Explore by category