A family day out in London doesn't have to break the bank. Take the kids to some of the city's best museums, galleries and free tourist attractions and find out which central London restaurants let them eat for free.
Morning: free museums
There are a lot of free museums in London. Kensington's Science Museum and Natural History Museum are especially good for kids. And apart from some temporary installations, they are both entirely free.
London's Science Museum is packed full of fun family activities. The Garden, aimed at three to six year olds, is a multi-sensory area where children can explore floating and sinking, shadows and reflections, sound and giant building blocks. The Pattern Pod is ideal for older kids aged from five to eight.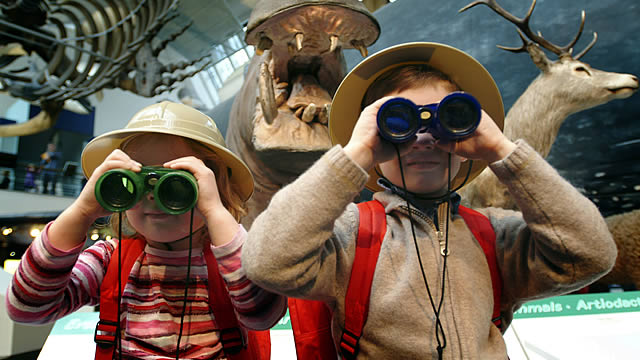 Next door at the Natural History Museum, children can get up close to a terrifying T. Rex and find out how baby dinosaurs were born. Visit Investigate, the hands-on science centre for seven to 14 year olds, and touch geological specimens in the Earth Lab. Under-sevens will love the free-to-borrow Explorer Backpacks, which contain a safari hat, binoculars, drawing materials and an activity booklet. Choose from topics including birds, mammals, monsters, oceans and nature.
Lunch: picnic

If you're on a budget take a packed lunch to the Science Museum's indoor picnic area, or the nearby Kensington Gardens if the weather is nice.
Afternoon: free parks
London has plenty of free parks which provide a great place for kids to tire themselves out. Visit the popular Diana, Princess of Wales' Memorial Playground in Kensington Gardens, where kids can climb the giant wooden pirate ship and explore the sensory trail, beach and teepees. If you have rollerblades you can join skaters of all ages on the nearby Broadwalk.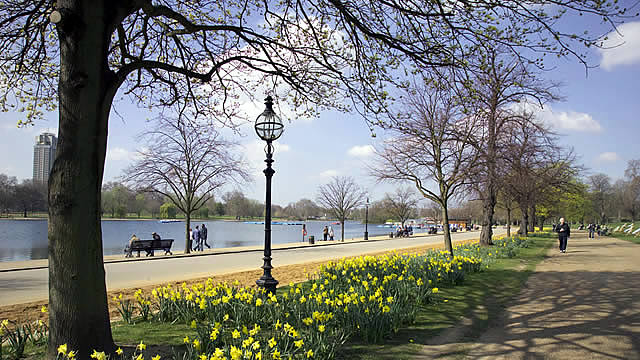 Wander across Kensington Gardens to Hyde Park and the magnificent Serpentine Lake. The Serpentine is home to a large number of birds, many of which are winter visitors to the park. You're likely to see ducks, geese and more exotic looking species such as Great Crested Grebes.
Evening: cheap food in Covent Garden and Soho
Catch the Tube to Covent Garden to watch colourful street performers in the piazza and offer them your appreciation in the form of applause and small change. There are also plenty of fantastic and cheap places to eat in the area.
Covent Garden is at the centre of the London burger boom, and kids will love American imports Shake Shack and Five Guys, where burgers start at £4.75. UK burger chain Byron also has a Covent Garden outpost, complete with a kids menu of two courses for £6.50. For the more adventurous child, Wahaca offers Mexican street food in a lively atmosphere. Street food dishes start from £3.70, with main dishes from £6.85.
You can also save a bundle by taking the kids for an early dinner or lunch at a London restaurant which lets them eat for free. At The Real Greek, for example (a Greek chain with a location in Covent Garden) kids get one free meal for every £10 spent by an adult on Sundays. Under 12s can also eat for free all day on Saturday and Sundays when accompanied by a paying adult at The Strand. Hix Group restaurants Tramshed, HIX Soho and Chop House let kids under 10 eat free when accompanied by a paying adult between 4pm-6pm Monday to Friday and from 12pm-6pm at weekends (apart from Chop House, which restricts this to 5pm-6pm on Saturdays).
Travel
Young children can enjoy free or discounted travel, but older children may need an Oyster photocard. The cheapest way for adults to travel is by using an Oyster Card or contactless payment card, with fares capped at £6.60 per day in Zones 1-2.
Total:
Dinner for two adults and two children: around £30
Tube fare for two adults in Zones 1-2: £13
Everything else: Free!
Total: £43
Explore by category