In a city as old as London, you can't escape reminders of London's horrifying history. It's survived mad monarchs, plagues and the Great Fire of London. Explore London's spooky side with these 13 scary things to do in London.
And if you're visiting London on or around 31 October, take a look at our roundup of things to do on Halloween in London.
1. Historical horrors
No trip around London's scariest spots is complete without a visit to the Tower of London. Originally a palace, the tower was London's most notorious prison and became the go-to destination for torture and executions - just ask Henry VIII who had two of his wives executed there. The young princes Edward V and Richard of York, Arabella Stuart and the famed White Lady are just a few of the ghostly souls reportedly still imprisoned in the tower.
2. Scary attractions
Travel through more than 1,000 years of London's horrible history at the London Dungeon, where live actors, spine-tingling rides and alarmingly realistic models bring London's dark past to life and terrifying surprises lurk in every corner.
3. Heart-stopping performances
For seat-gripping suspense, enjoy Stephen Mallatratt's adaptation of dark thriller, The Woman in Black which has been haunting London's West End for 27 years. That's nothing compared to the ongoing appearances from theatreland's resident poltergeists: Joseph Grimaldi, the so-called King of Clowns, has been spotted lurking in the wings at the Theatre Royal Drury Lane, desperate for one last laugh.
4. Creature contact
Keep little monsters entertained as you discover London's creepy creature inhabitants. Test your nerve on the Shark Walk at SEA LIFE London, where you'll walk across the top of the sharks' glass tank at the London aquarium. If you dare to enter the newly-opened In With The Spiders exhibit at ZSL London Zoo, watch out for black widow, huntsman and giant bird-eating arachnids.
5. Museum curiosities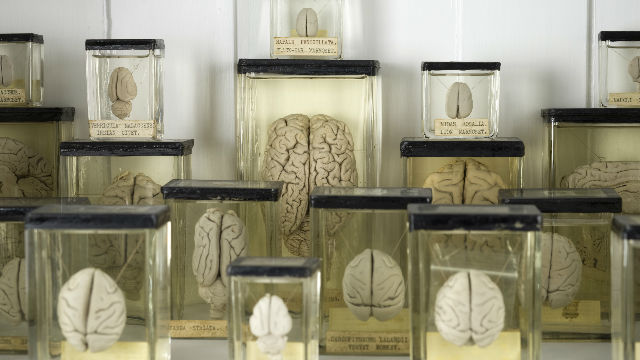 The Grant Museum holds a collection of more than 68,000 preserved animal specimens. Our favourite is the brain collection located near the museum's entrance. The Wellcome Collection is another must-see for the incurably curious. Previous weird and wonderful highlights include shrunken heads, a Peruvian mummy, Leonardo Da Vinci's anatomical sketches and a bone chandelier.
6. Royal ghosts
Hampton Court Palace is one of the most beautiful royal residences. But all beauty comes at a price! The Haunted Gallery is a favourite for ghost-hunters on the lookout for Henry VIII's fourth wife, Catherine Howard. Dragged from the gallery to her ultimate death in the Tower of London, her screams are said to be heard echoing in the night.
7. Twisted tours
Walk the streets once stalked by Jack the Ripper on an East End trail of terror with Jack the Ripper Ghost Walks. Or for those who fancy a ride to London's dark side, hop on a Ghost Bus and uncover forgotten tales of intrigue and murder in the capital – just be sure to ring the bell when it's time to leave or risk joining your creepy conductor for good!
8. Chills and thrills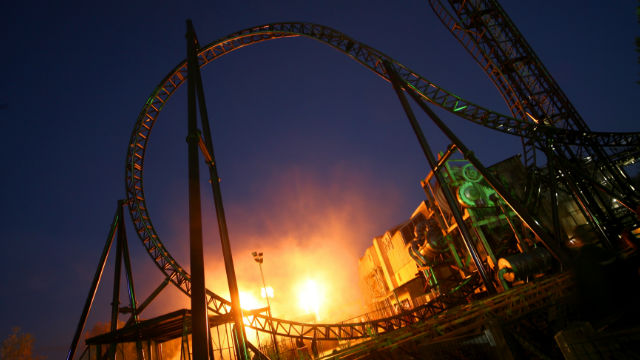 May the (g-)force be with you! Visit one of London's theme parks for an adrenaline-fuelled adventure that will make you scream with laughter. Chessington World of Adventures, Thorpe Park and Legoland Windsor run special Halloween and half term events guaranteed to get your pulse racing.
9. Devilish treats
For a sinfully delicious treat (hold the tricks), visit one of London's best cake shops in autumn, where you'll find Halloween cupcakes, cake pops and more. For adventurous eaters only, Harrods stocks Hoxton Street Monster Supplies' range of Cubed Earwax, Jelly Dentures and Eyeball Cubes for a truly gruesome treat.
10. Potent potions
With garlic in absolutely everything, restaurant Garlic and Shots is the only venue in London guaranteed to be 100% vampire free! Are you brave enough to try one of its famous bloodshots (a heady mix of vodka, tomato, garlic, chilli and spice). If you're feeling shaken, seek sanctuary at Pix Confessional and sample delectably potent cocktails, served through a hatch in the wall, in the hidden foundations of an ancient church.
11. Haunted pubs
Jack the Ripper's famed local, The Ten Bells is a hotbed of paranormal activity. Customers and bar staff alike report hearing footsteps in empty corridors and experiencing unexplained cold spots in the bar. If you're just passing through, make sure you stop off at The Spaniard's Inn, one of London's oldest pubs and a drinking spot of infamous highwayman Dick Turpin. His ghost (and that of his horse) are said to haunt the pub, and it has a bar named in his honour. The Spaniard's Inn is also mentioned in Bram Stoker's Dracula!
12. Victorian cemeteries
By day, Brompton Cemetery and Kensal Green are two of London's most beautiful Victorian garden cemeteries. Amidst the stunning gothic mausoleums, you'll find headless angels guarding unmarked and crumbling tombstones. Take an official guided tour to find out the secrets of the cemeteries and look out for special events throughout the year.
13. Subterranean scares
Frozen, waiting for trains that will never arrive: London's abandoned underground railway stations offer an eerie glimpse into London's past. The surrounds of Aldwych underground station have featured in films V for Vendetta, 28 Weeks Later and more recently in an episode of BBC's Sherlock. Tours are rare so keep your eyes peeled.
Here for Halloween? Take a look at what's happening in London.