From world-top museums and galleries, to royal palaces, cathedrals and theatres, London strives to make its attractions open to everybody.
1. British Museum
Visit the world-famous British Museum to see extraordinary artefacts from all over the world, from prehistoric to modern times. Highlights include the Rosetta Stone, Parthenon sculptures and Ancient Egyptian mummies.
The British Museum is wheelchair-friendly, with level access at the Montague Place entrance, and step-free access throughout most of the building, via lifts. Other accessibility features include accessible toilets, British Sign Language guides, and audio descriptive guides. Call the museum in advance to hire a wheelchair for your visit. Read more
2. Buckingham Palace
Visit Buckingham Palace, the official London residence of the Queen, during its summer opening. Buckingham Palace is one of the few remaining working royal palaces in the world, so don't miss the opportunity to see it!
You'll find wheelchair and step-free access through a separate entrance at the front of the palace. Pre-book your visit if you need assistance: wheelchairs are free to borrow for the time of your visit. Use your mobility scooter or wheelchair in the Quadrangle and in the garden, and throughout the palace if it's compatible with the lifts. Read more
3. National Gallery
Be amazed by the National Gallery's stunning collection of western European paintings from the 13th to the 19th centuries. Highlights include masterpieces by Botticelli, da Vinci, Titian, Van Gogh, and Renoir.
Enter the National Gallery from four step-free entrances: the Getty, Sainsbury Wing, National Café and Pigott Education Centre. You can borrow a wheelchair, and British Sign Language painting discussions and audio-guide transcripts are available. Read more
4. Madame Tussauds London
Get closer to the world's greatest personalities, from Her Majesty The Queen to Lady Gaga, at Madame Tussauds London.
For safety reasons, only three wheelchairs can be hosted at any one time, so book your slot in advance. All of the museum's galleries are accessible to wheelchair users via lifts, except the Spirit of London ride. Helpers can visit Madame Tussauds London for free, as long as they provide the necessary documentation. Read more
5. Tate Modern
Head to Tate Modern to see some of the most famous artworks in the world for free. Britain's national gallery of modern and contemporary art hosts amazing works by renowned artists such as Picasso, Rothko, Matisse and Dali.
Enter Tate Modern's imposing building from either the River or Sumner Street's entrances, which are step-free. Explore all floors via the lifts and pass from the Boiler House to the new Switch House building through the Turbine Hall and the bridges at levels 1 and 4. Read more
6. Tower Bridge
Discover all the secrets behind one of London's greatest landmarks: Tower Bridge. Retrace the history of the famous bridge and soak up the views from the panoramic walkways, 45m (147 ft) above the river.
Both the bridge and the engine room's entrances are fully accessible and are connected by a lift, so you can start your visit from either part of the exhibition. Ask a member of staff if you'd like to borrow a wheelchair. Read more
7. ZSL London Zoo
Learn more about the world's most curious animals at ZSL London Zoo. Get closer to magnificent lions, cute little penguins and another 750 species as you enjoy a fun family day out in London.
Most of the zoo is accessible to wheelchair users. Don't miss wheelchair-friendly Tiger Territory, with a lift to the viewing platform, and the aquarium, accessible via the disabled entrance next to the main doorway. Wheelchairs are available to borrow (advance booking required). Read more
8. Natural History Museum
Admire the Natural History Museum's spectacular building, and be amazed by its enormous collection of all types of specimens and relics, from full-scale dinosaurs to giant whale models.
Borrow a wheelchair for free at the cloakrooms and start exploring: the Darwin Centre and all floors in the Green, Red and Blue zones are accessible via a lift. Other accessibility features include audio-descriptive guides, tactile and Braille guides and fun events for children with autism. Read more
9. Kensington Palace
Discover Kensington Palace's wonders and visit the magnificent King's and Queen's State Apartments. Catch royal-themed temporary exhibitions alongside the permanent display, and learn more about iconic figures such as Queen Victoria and Princess Diana.
You can easily access Kensington Palace from beautiful Kensington Gardens, and reach all floors via a lift. Disabled facilities include British Sign Language and describer tours; while manual wheelchairs are available to borrow on a first come, first served basis. You can also see Kensington Gardens' most scenic spots on a half-hour tour on an electric buggy (booking required). Read more
10. Coca-Cola London Eye
See many of London's top attractions from the Coca-Cola London Eye, as you rotate over the river on a half-hour ride.
The Coca-Cola London Eye is fully accessible: it allows entry to two wheelchair users per capsule and eight in total at any one time. Book your slot in advance to avoid disappointment. Read more
11. Victoria and Albert Museum
A trip to London isn't complete without a visit to the Victoria and Albert Museum. Discover the immense collection of arts, crafts, design and fashion, and relax with a cup of tea in the beautiful cafe.
Head to the Cromwell Road entrance for step-free access to the museum. Book in advance to have a guide assist you during your visit; while wheelchairs and walking frames are available to borrow at the information desk at the Grand Entrance. Other disabled features include British Sign Language talks, tactile books and more. Read more
12. Shakespeare's Globe Theatre
Be transported back in time to Elizabethan London at Shakespeare's Globe Theatre. Visit the faithful reconstruction of the 1599 open-air playhouse and catch a performance of one of the Bard's acclaimed plays.
The theatre, exhibition and tour are accessible to wheelchairs, and recorded commentaries and Braille panels are placed all around the exhibition. Make the most of your visit and see a show at the Globe. Audio-described, British Sign Language and captioned performances take place throughout the year, as well as relaxed performances conceived for visitors with autism. Read more
13. Museum of London
Embark on a journey through the history of the capital, from prehistoric London, through plague and fire, up to the present time, at the Museum of London.
Explore the Museum of London's displays in complete freedom: all galleries, the shop and cafe are fully accessible for wheelchair users and visitors with mobility difficulties, and you can borrow a wheelchair (booking required). Other highlights include magnifying glasses, large print guides, portable induction loops, British Sign Language videos and captioned tours. Read more
14. St Paul's Cathedral
Visit St Paul's Cathedral, one of London's greatest landmarks, and learn about its intriguing history.
Enter the cathedral via the step-free South Churchyard entrance, from where you can take the lift to the crypts and cathedral floor, and access the quire and sacrarium via a user-operated chairlift. Wheelchairs are available on request, as well as audio-descriptive guides. Guided touch tours can be booked in advance, and British Sign Language tours are included in the cost of admission. Please note, the Whispering Gallery, the Stone Gallery and the Golden Gallery are not step-free. Read more
15. Science Museum
Interact with some of the major scientific advances of the last 300 years at the Science Museum. Experience human discoveries and inventions first-hand, from space travel to psychology.
Borrow a wheelchair on the day, or book one in advance, and explore the Science Museum's displays through fully wheelchair-accessible galleries. Find tactile map booklets and large print gallery books at the entrance to the Information Age gallery. The museum hosts British Sign Language events and object-handling sessions throughout the year. Read more
16. National Portrait Gallery
Discover the world's largest collection of faces and personalities, from Tudor times to the present, at the National Portrait Gallery. See amazing portraits of kings and queens, alongside photographs of celebrities and politicians, and pay a visit to the panoramic restaurant.
Lifts provide access to all floors: reserve your wheelchair in advance if you need to borrow one. The museum provides a wide range of accessibility features, including accessible toilets, induction loops, British Sign Language talks, Braille maps and guides. Read more
17. Somerset House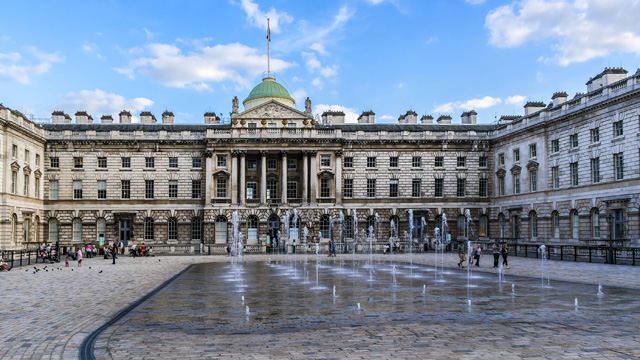 Be amazed by the variety of cultural events hosted at Somerset House throughout the year, from open-air concerts to art and photography exhibitions.
Somerset House is fully wheelchair-friendly and its stunning Edmond J. Safra Fountain Court is accessible via The Strand. Read more
18. SEA LIFE London
Venture into an underwater world filled with beautiful creatures at the SEA LIFE London aquarium. Discover more than 500 species, from rays to green sea turtles, and don't miss the famous Shark Walk.
Enjoy full disabled access on all of the aquarium's levels, plus accessible toilets throughout. Wheelchairs are available to borrow on a first come, first served basis. Read more
19. Kew Gardens
Did you know London has a World Heritage Site botanic garden? Wander through the immense green spaces of Kew Gardens and discover tropical glasshouses, serene waterlily ponds and stunning flower displays.
The gardens are flat and most of the buildings, and all cafes, are wheelchair-accessible. Enjoy the fabulous view from the Treetop Walkway, accessible via a lift, and travel from one side of the garden to the other with the Kew Explorer land train, which can also fit one manual wheelchair. Mobility scooters and wheelchairs are available for hire from all gates. Read more
20. National Maritime Museum Greenwich
Relive the fascinating history of Britain's explorations at sea at the National Maritime Museum Greenwich, and discover a host of naval-themed objects and relics.
The National Maritime Museum Greenwich, the cafe and the gift shop are completely wheelchair-accessible - book in advance to borrow a wheelchair. Carers are given free admission to ticketed exhibitions. Read more
Visit DisabledGo for comprehensive access information on attractions, venues and parks in London.
Find more information on where to hire a wheelchair, and read our guide to accessible London.