Antiques markets in London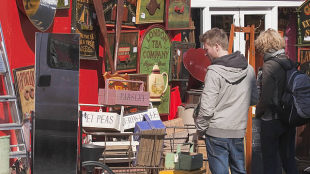 London is full of interesting art and antique markets, where you're sure to find something unique to take home whatever your budget.
From the stalls and arcades of Portobello Road Market to the small, specialist shops at Grays Antique Centre, there are plenty of places for antique hunters to explore. You will be able to find everything from jewellery and collectables, to old furniture and art, at London's bustling antique markets.
Antiques, Vintage & Second-Hand

Antiques, Vintage & Second-Hand Fashion

Antiques, Vintage & Second-Hand

Antiques, Vintage & Second-Hand

Antiques, Vintage & Second-Hand

Antiques, Vintage & Second-Hand

Antiques, Vintage & Second-Hand