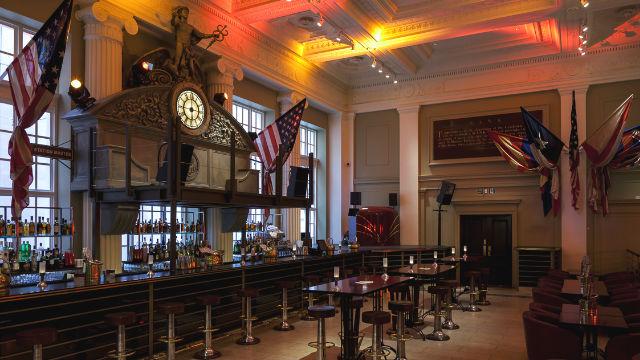 Steam & Rye is a one-stop destination venue by London entrepreneur Nick House (Mahiki, Whisky Mist and Bodo Schloss).
About
Steam & Rye is a one-stop destination venue by London entrepreneur Nick House (Mahiki, Whisky Mist and Bodo Schloss). Teaming up with British model and national sweetheart Kelly Brook, they have created a spectacular 550 capacity space harking back to a bygone era, encapsulating America's Gilded Age, a time of glamour, decadence and idealism in the old bank of New York building in Bank, the heart of the City of London.
Inspired by the United States of the 1920s, the decadent bar and restaurant offers live music and dancing with a classic Americana theme open Monday-Saturday from 4pm-3am. The grand living of the Great Gatsby era is met by the old ways of the Wild West and travelling shows will be fused with the stirrings of the new, young sound of rock 'n' roll. Upon entering the grand building guests receive an all-American warm welcome in the dark and mysterious reception area with a hint of things to come.
Steam & Rye contains four main elements. The Main Hall and Station Gardens are modelled on New York's Grand Central Station and offer an over-whelming assault on the senses. The room features a beautiful sculpted bar, a stage, living clock, and its very own Eastern Pacific Steam Train Dining Carriage. Mirroring the land that was opened up by the mighty railroads, Steam & Rye will feature classic Americana fare including USDA Grain-fed beef from Greater Omaha, BBQ spare ribs & beautifully flavoured steaks cooked on the Josper Grill. Additionally, crab cakes, clam chowder and smoked pulled pork give a hint of what's to come, all prepared by a team led by celebrated chef Andrew McLeish (of Michelin starred Chapter One, Kent).
Britain's top bartender and finalist in the Diageo World Class competition Andy Mil (formally of London Cocktail Club) is heading up the bars which will serve both classic and bespoke cocktails, created by one of Britain's leading mixologists.
Explorers will find a winding stairwell leading to the mezzanine level and the Cargo Hold; an impossibly crammed collection of ephemera, taxidermy, flotsam and jetsam with a glass fronted wall offering a bird's eye view over Grand Central Station. Dimly lit, it takes time to explore the treasures accumulated over a lifetime of travel to extraordinary destinations.
Finally the basement 1st Class Cocktail Carriage is a luxurious retreat whilst crossing continents. Rich sumptuous velvet and intimate leather-lined booths create an opulent den to savour extraordinary and exotic cocktails from the richly-laden bar. Ideal for private parties and outlaws hideouts.
Venue Details & Map
Steam and Rye
Address

147 Leadenhall Street

EC3V 4QT