Enjoy a taste of the far east by exploring London's Chinatown. This bustling neighbourhood is home to a large East Asian community, who gather together for events and activities throughout the year, in particular during London's Chinese New Year celebrations.
What's London Chinatown's history?
Once home to Huguenot and Maltese immigrants, the area of Chinatown as we know it today started to form in the 1950s, when a handful of Chinese restaurants opened. With other businesses and services moving in, by the 1960s and 1970s the neighbourhood had become a hub for Chinese culture.
The original London Chinatown was in Limehouse, in London's East End. Chinese employees of the East India Company settled at the docks in the late 19th century and helped to create a Chinese community. However, a decline in shipping and large-scale destruction of the area during the Second World War saw this quarter dwindle by the mid-20th century.
Where is Chinatown in London?
Geographically, Chinatown is bound by Shaftesbury Avenue to the north, Rupert Street to the west, Charing Cross Road to the east and Leicester Square to the south. The main focal point is Gerrard Street, which runs through its centre. Chinatown is part of London's West End.
How to get to Chinatown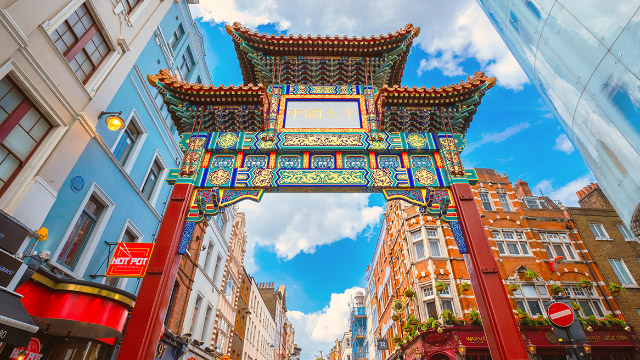 London's Chinatown is close to key attractions such as Leicester Square, Theatreland and Soho. Its central location makes it an easy place to get to by public transport.
The nearest Underground stations to Chinatown are Leicester Square and Piccadilly Circus, which are connected to the Piccadilly, Northern and Bakerloo Tube lines.
Numerous bus routes link Chinatown to other areas of London and taxis are readily available in the area.
If you are travelling to Chinatown for the annual Chinese New Year celebrations, check out the key travel information for the main events in advance.
How to get around Chinatown
It is easy to get around Chinatown on foot, as it is a relatively small area and some streets are pedestrianised. You can explore the area and all its offerings on a guided Chinatown walking tour, while listening to stories from members of the community.
Bus routes skirt the area's boundaries but do not travel through Chinatown, and access for taxis and cars is limited to certain streets.
What to see in London Chinatown
Chinatown boasts buildings and streets decorated with Chinese symbols such as dragons and lanterns. Keep an eye out for street signs, which are written in English and Chinese.
Find stone lions, contemporary art sculptures and Chinese gates as you explore the area, and don't miss Chinatown's fourth gate on Wardour Street. Completed in 2016 and built in traditional Qing dynasty style, it is the largest Chinese gate in the country. All these impressive decorations make perfect photo opportunities and give an insight into Chinese culture and religion, particularly during seasonal celebrations.
What's on in Chinatown London: events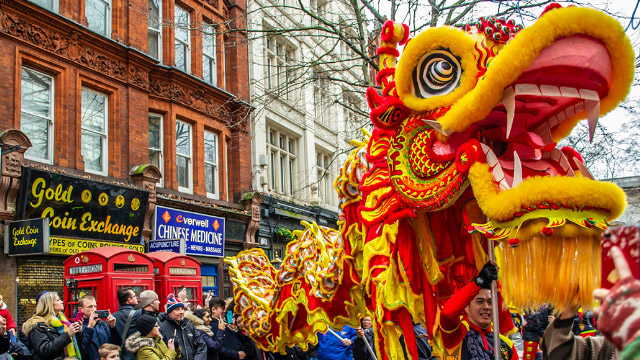 Every year, Chinatown plays host to the capital's colourful Chinese New Year celebrations between mid-January and February – the dates vary from year to year according to the Chinese lunar calendar.
In 2022, Chinese New Year falls on 1 February, with the Chinese New Year London festivities taking place around that date.
Events include a spectacular parade with floats and lion dances, live performances in Trafalgar Square, and entertainment across the West End and around Chinatown, as well as pop-up food and craft stalls.
The area is also adorned with hundreds of red lanterns during Chinese New Year, making for the perfect photo opportunity.
There are also plenty of other events in Chinatown throughout the year, including the following highlights:
Watch singers compete for a place in the final of the Water Cube Cup Singing Contest that is held in China in August.
Pay tribute to the elder generations in the summer months at the Poon Choi Festival and feast on food served in a giant basin.
Sample delicious mooncakes and watch stunning performances at Moon Fest, a week-long celebration in thanks of the harvest during mid-autumn.
Things to do in Chinatown London: shopping
Chinatown is home to some wonderful, authentic Chinese food shops and bakeries, as well as shops selling Asian cosmetics and Chinese-inspired trinkets and gifts.
Browse the shelves at New Loon Moon, Lucky Foods and SeeWoo supermarkets for unique and exotic ingredients such as spices and fresh fruits and vegetables.
Shop for fluffy pineapple buns and custard tarts at Golden Gate Cake Shop and Kowloon bakery – perfect any time of the day! Watch mini taiyaki (fish-shaped waffles filled with custard) being made at Chinatown Bakery, or try them stuffed with soft-serve matcha ice cream at Bake.
Asian cosmetics and skincare are becoming increasingly popular – check out the contemporary ranges available at P2Bus and Oseyo (which also sells K-pop merchandise, food and stationery).
You can also explore shops selling lanterns, Chinese clothing and knick-knacks such as maneki-neko (beckoning cats).
Where to eat: Chinatown restaurants and bars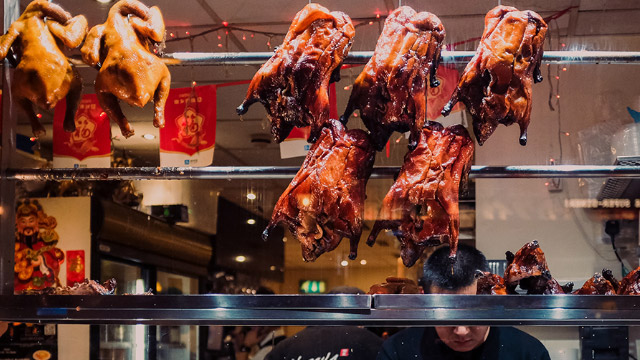 There is a wealth of restaurants in Chinatown, many of which serve regional Chinese fare. But you'll also find other cuisines including Korean, Malaysian, Vietnamese, Taiwanese and Japanese, alongside European eateries and pizza places.
For a real taste of Chinatown, eat at one of the top London Chinese restaurants. If you enjoy Cantonese cuisine and dim sum, Chinatown will spoil you for choice with restaurants ranging from spicy Szechuan specialities to Chinese buffet restaurants.
Among the best restaurants in Chinatown are:
Find more of the best restaurants in Chinatown and delicious dishes in the area.
If you're craving a cocktail, try the Experimental Cocktail Club, a speakeasy-style bar hidden behind an unassuming door on Gerrard Street. For more beautifully crafted drinks, head to the seductive Opium Cocktail and Dim Sum Parlour, enjoy the atmospheric surrounds of The Light Lounge, or experience the classy clandestine vibes of The Mulwray, hidden above The Blue Posts.
Enjoy the lively atmosphere at De Hems on Macclesfield Street with its choice of Dutch and Belgian beers, and dance the night away on the corner of Lisle Street at popular gay bar Ku Bar.
Where to stay in Chinatown London