Find the best places to eat Chinese food in Chinatown during London's Chinese New Year celebrations or at any time of year.
You can also find many Chinatown restaurants specialising in other cuisines, from Malaysian, Thai and Vietnamese to European and Middle Eastern dishes.
1. Four Seasons
Sample some of the best roast duck in London at Four Seasons. The Irish grain-fed, free-range birds yield an exquisite crisp skin and juicy flesh, seasoned in the venue's secret blend of spices. A must-try!
2. Dumplings' Legend
Feast on delicious dumplings with pan-Asian influences at one of Chinatown's most popular dim sum restaurants: Dumplings' Legend. Watch the chefs as they create the dumplings behind a glass wall.
3. Baozi Inn
Love spicy food? Then head to Baozi Inn, a modern, cosy Chinatown restaurant that's one of the best places to try deliciously fiery Sichuan specialities. The melt-in-your-mouth stewed beef with sweet potato noodles is the stuff dreams are made of.
4. Bake
Enjoy tasty Pan-Asian snacks at Bake. Savoury offerings include the bakery's best-selling char siu bao (barbecue-pork steamed buns). If you have a sweet tooth, tuck into a taiyaki-influenced fish-shaped waffle filled with matcha ice cream.
5. Good Friend
Good Friend is the best place in Chinatown to try Taiwan's legendary crispy fried chicken. Take your pick from breast, wings or popcorn chicken, then add some oomph with one of the many flavoured powders to pick from – try the pepper and chilli or plum flavours.
6. Opium Cocktail and Dim Sum Parlour
Concealed behind a secret jade door in Chinatown, this speakeasy-style cocktail lounge and dim sum parlour is well worth seeking out. Set over three floors of a historic townhouse, Opium takes inspiration from all things Chinese, from the ingredients and flavours used in the cocktail list, to the compact dim sum menu and vintage decor.
7. Plum Valley
Treat yourself to high-end Chinese cuisine at Plum Valley, one of the best fine-dining restaurants in Chinatown. Explore the vast dim sum menu featuring Cantonese specialities such as taro croquettes, almond king prawns and crab and pork soup dumplings.
8. Imperial China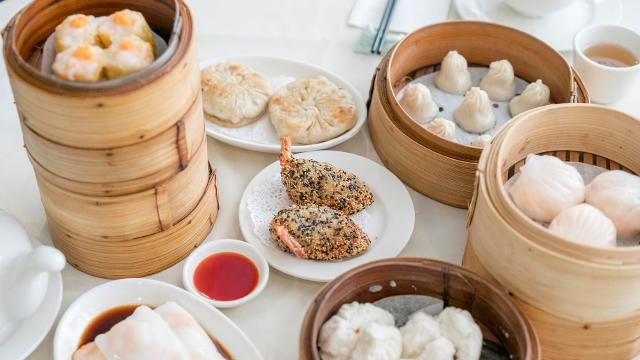 Visit one of the largest Chinatown London restaurants for a wide choice of Cantonese dishes and dim sum, with a focus on seafood. Housed over three floors and featuring karaoke rooms and even its own carp pond, Imperial China is ideal for big groups and families.
9. Café TPT
Find a huge variety of quality Chinese and Malaysian dishes at street-food shop Café TPT. Choose from noodles, hot broths, seafood and more, and be sure to wash it all down with a lovely bubble tea.
10. Leong's Legend
Head to wooden-panelled den, Leong's Legend, to sample Taiwanese specialities, from mouthwatering pork buns and delicious soup dumplings to slow-cooked pork belly cooked to perfection.