See artists perform in public spaces across central London during the free, family-friendly festival Pop-Up London.
Make sure to share your adventures at Pop-Up London on social media using the #LetsDoLondon hashtag!
Where can I watch Pop-Up London?
Pop-Up London previously appeared in public spaces across central London on specific dates.
What's on at Pop-Up London?
Be dazzled by a lineup of exciting performances during Pop-Up London, including music, dance, theatre and more.
BollyRed Dance Company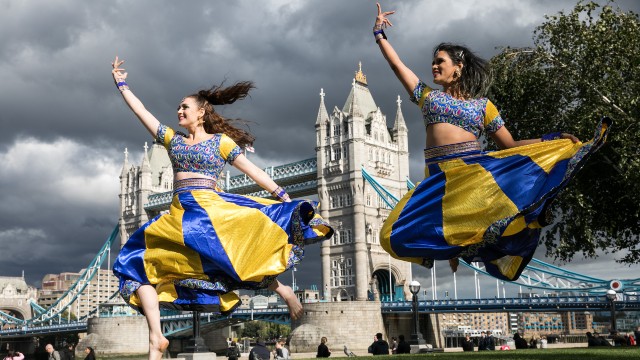 The BollyRed Dance Company is all set to bring some Bollywood charm and get you dancing! Grab your most colourful outfit and bring your family along for a day of fun.
It's About Time
Holly Khan shares an audio installation exploring hope, strength and women's right to safety in It's About Time. Hear voices across four generations imagine what a brighter future could be.
Jack Defrost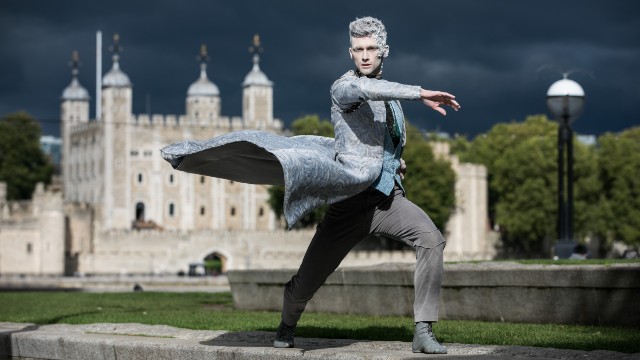 Jack Defrost by Traceworks Dance is an enchanting dance performance, unravelling the traditional character of Jack Frost and his journey through the changing seasons.
Canapé Art
Expect glittery cakes, fun costumes and theatrical high jinks with Canapé Art, from Eleni Edipidi at Levantes Dance Theatre. Dressed to impress, a pair of artists perform dance and acrobatics above a tastefully laid tea table.
Londoninium
From the Little but Fierce theatre collective, the Londoninium walking tour explores lesser-known spots across London, delving into the history of the people who made the capital their home across the centuries. The self-guided Londoninium route can be enjoyed any day or time.
Metronomes Steel Orchestra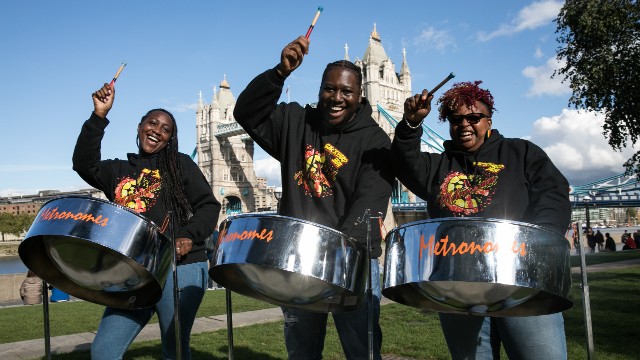 Hear the innovative steel pan orchestra Metronomes Steel Orchestra perform its award-winning repertoire in a celebration of carnival arts outside.
PARC
Dance to fresh sounds drawn from old school and Ibiza classics to produce reimagined and chilled fusions of multisong mashups with PARC, brought to you by Rita Campbell and Alle Pearse.
Peruvian Latin Folk Flash Mob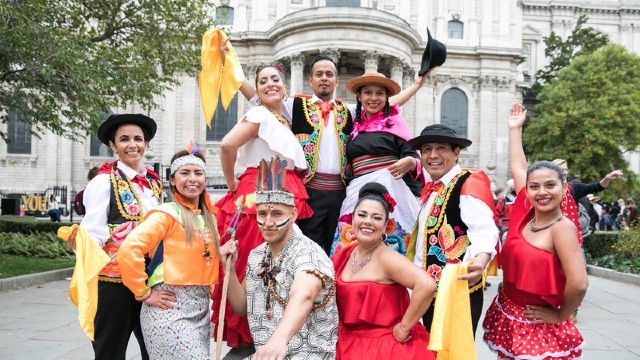 Enjoy eye-catching dance performances and learn about London's rich Peruvian culture with ArtPerUK's Peruvian Latin Folk Flash Mob.
The Bridge
Join the fun of The Bridge with Scanner's Inc, a family-friendly block party, where a range of hip-hop tunes is the backdrop for dance battles, freestyles and graffiti murals.
The Lips
See a big luminous pop-puppetry singalong spectacle with something to say from Puppets with Guts. The Lips reanimate favourite songs, celebrate a shared love of popular music and uphold the freedom to speak out.
Wig Out
Join the family-friendly Wig Out workshop to design and make your own fabulous cardboard wig from Avant-Gardening. Afterwards, put on your wig, show off and settle down to enjoy a drag queen storytime session.
More fun activities for families
Find more things to do during your trip to London and dine on tasty treats at a London restaurant, visit these top London attractions and check out some of the best things to do with kids.
Discover more amazing things to do in London with our Let's Do London guide.