Pies have been served across the capital for centuries, whether in the East End by bakers on carts or in the west at Twickenham, where there's even an island named after the eel pies that were served to passing boatmen.
1. Rules – Covent Garden
With an old-world English feel both on and off the plate, Rules in Covent Garden is a great place to tuck into a traditional pie. London's oldest restaurant was known for its porter, pies and oysters when it opened more than 200 years ago. Today, the focus is more on game, but the restaurant stays true to its earlier menus with some heart-warming pies, such as steak and kidney pie, and chicken, bacon and tarragon. Alternatively, opt for a robust steamed pudding (made with suet) featuring steak, kidney and oysters.
2. The Windmill – Mayfair
Although many pubs claim to be 'pie specialists', The Windmill is one such establishment that can safely stand by its love for the pastry-cased delicacy. Boasting its own pie club with thousands of members, not one but two dedicated pie rooms, and even a pie-focused YouTube channel sharing their talents in pie making, this is definitely a place for pie enthusiasts. Try the award-winning steak and kidney version for a warming, meaty hug.
3. Pieminister - Farringdon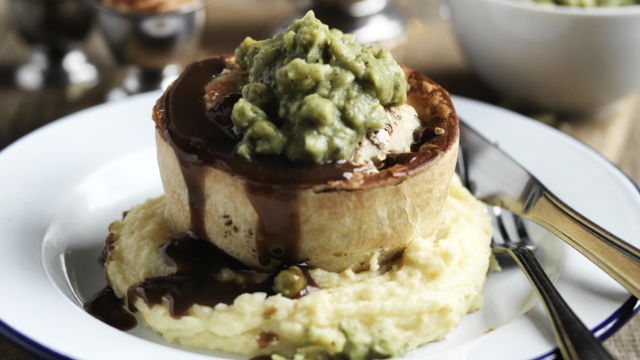 If you're looking for a cheap and quick pie, head to Pieminister on Leather Lane. Perch on a stool in this cosy Farringdon eatery with one of the pie specialist's creations, such as a "matador" with steak, chorizo, olive and butter bean; or opt for takeaway. You'll also find Pieminister's pies at a handful of pubs across London.
4. Old Bank of England – The City of London
It's no surprise this spacious City pub serves demon pies considering the Victorian legend of its Fleet Street site – it was allegedly flanked by Sweeny Todd's barber shop and the house of his mistress, Mrs. Lovett. As the fictional story goes, Todd murdered his clients below in the tunnels and vaults and used their bodies as pie fillings with help from his lover. Today, the Old Bank of England has less barbaric neighbours, and serves far more appetising pies with revived classic British fillings.
5. M. Manze – Southwark
The Manze family pie dynasty – at one point the family owned 14 pie and mash shops in London – started here at 87 Tower Bridge Road in 1902, when Michele Manze set up his self-titled shop, M. Manze. Now run by Michele's grandsons, London's longest continuously opened pie and mash shop serves homemade pies, mash and the classic green liquor; as well as cockney classic, jellied eels.
6. Goddard's at Greenwich – Greenwich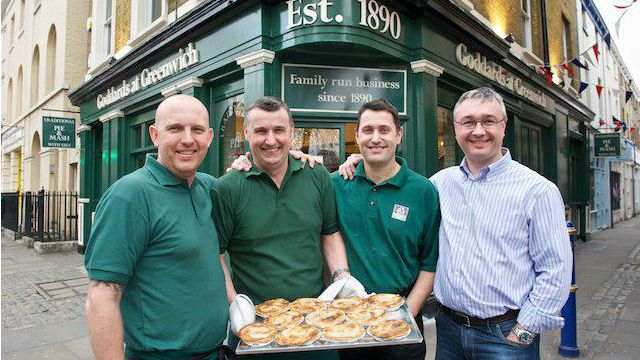 Get your pie fix every day at this restaurant that also serves eels, mash and liquor as were traditionally plated up in the Victorian era – the original family shop in Deptford opened in 1890 and has since closed, but the family name lives on in its location just a few steps away from the Royal Museums Greenwich. For those not so keen on river-dwelling delicacy, try Goddard's at Greenwich's pies with fillings such as steak and kidney, chicken and mushroom or the veggie Banks pie.
7. The Guinea Mayfair
If you're looking for a steak pie of the finest quality, head to The Guinea in Mayfair. Open since 1952, this Young's pub specialises in its dry-aged, grass fed British beef and uses this prized meat in its pies. Whether you choose steak and kidney or steak and mushroom, it's all about the beef at this venue, which is one of the proud founders of the Scottish Beef Club.

Explore by category