£5 and under
Having made the transition from street food stall to permanent site in Soho, Bao has added a range of small eats beside its fluffy white steamed Taiwanese buns. But its namesake dish is still incredibly reasonable, ranging from from £3.50 to £5 each. This place has only grown in popularity since making its way off the street, so be prepared to queue.
East London institution Brick Lane Beigel has been serving freshly baked beigels from its shop since 1977. You can pick up smoked salmon and cream cheese beigels here at just £1.50 or splash out on salt beef, which is still under £5.
Bombay café Dishoom offers an interesting twist on the classic breakfast sandwich – an egg naan roll for just £4.90. And while its chai isn't technically food, at £2.50 it's a great reason to take a break in the café's opulent but relaxed atmosphere. Its regular menu is also worth a try.
Pop by the Cutter & Squidge bakery in Soho for a quick sweet snack. Its biskies – sandwiched desserts made with a concoction of biscuit, cookie or cake - are filled with buttercream, handmade jams, caramels and other delights and start at £3.50.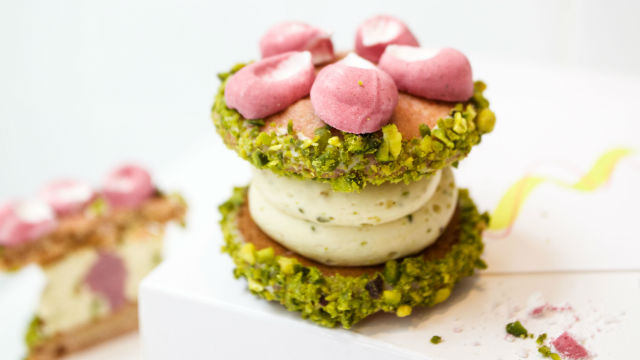 Homeslice makes fresh 20-inch pizzas in several locations across London – Covent Garden, Fitzrovia and Shoreditch. That means that when you buy a single slice for £4, it's absolutely huge and totally delicious.
Dum Dum's baked (not fried) doughnuts are made with only natural ingredients in a number of flavours, including Crème Brûlée, Toffee Apple, Almond Cream and Pistachio and the "Zebra" – layers of croissant dough and chocolate croissant dough, filled with chocolate buttercream and topped with chocolate ganache. And at only £3.75 each, there's no need to worry about your bank balance! Find Dum Dum's at BOXPARK Shoreditch, BOXPARK Croydon and Brixton Market Row.
£10 and under
Bargain sourdough pizza place Franco Manca has expanded from a pop-up into a legitimate restaurant chain, with several branches across London including Soho, Liverpool Street and Kensington. That hasn't impacted the price, however. Pizzas start at £4.50 and go up to around £7, accompanied by equally cheap drinks and a buzzy atmosphere.
The Rib Man can be found at his Brick Lane market stall every Sunday, offering rib meat rolls for £7 and racks of ribs from £8. And if you're a West Ham fan (or just really need some ribs), he'll be at The Boleyn Tavern for every home game.
Silk Road's menu is full of the regional Chinese cuisine of the Xingjang province's largest minority, Turkic Uighur Muslims. That means kebabs, dumplings, and hearty noodles and stews – traditional dishes with a fiery kick. Main dishes from around £7, kebabs from £1 per skewer.
Bleeker Street Burger brings New York-style burgers to the streets of London in Spitalfields Market, Canary Wharf and Southbank Skatepark. With a sesame seeded bun (no demi brioche here), rare-breed, pasture-fed beef and a secret sauce, the standard bacon cheeseburger starts at £7.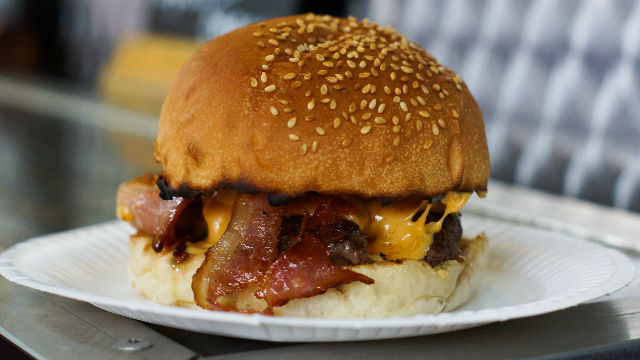 The Frenchie stall can be found at a number of food markets across the city, including the Southbank Centre Market, Brick Lane and Primrose Hill. Its menu is simple but full of strong tastes – a confit duck burger with your choice of cheese (£7) and the option of adding some incredibly filling duck fat chips with truffle mayonnaise (£3).
Fez Mangal in Ladbroke Grove is a Turkish BBQ house where you'll struggle to find a dish that costs more than £10. Traditional Turkish kebabs and bring your own bottle – without a corking fee.
Try Apollo Banana Leaf or Samrat in Tooting as an alternative to Brick Lane's curry houses. Apollo Banana Leaf serves up rich, spicy Sri Lankan dishes with plenty of seafood options, while Samrat offers more traditional Indian fare (mains from both restaurants start at around £6, while the house special set meal at Samrat is £10.95).
Kimchinary's Korean burritos (£6.50) are filled with delicious slow braised "bulgogi" brisket or ox cheek, gochujang and soy pulled pork shoulder, or grilled aubergine and ssamjang sautéed kale, with kimchi fried rice and even more kimchi.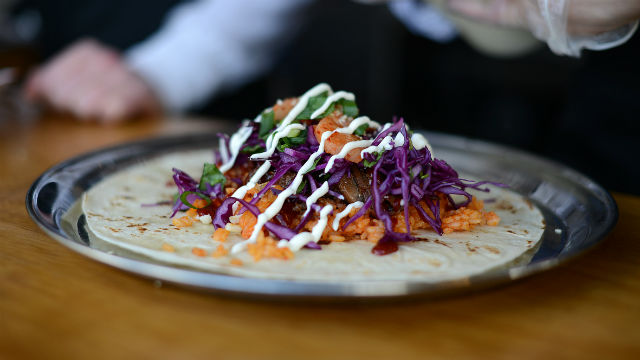 £20 and under (for 2-3 courses)
Le Mercury in Islington became so popular for its reasonable and tasty French fare that it had to open up another restaurant just a few hundred metres down the street. Both restaurants offer the same menu: starters such as beef carpaccio for £4.45; mains such as pan-fried sea bass for just £10.95; and desserts such as crème brulee for £3.45.
CERU South Kensington serves up a vibrant selection of Middle Eastern-inspired small plates. Tuck into a three-course meal for less than £20, or order up a couple of wallet-friendly dishes to share between friends. Just some of the choices include colourful salads (starting at £5), slow-roasted lamb shoulder (£10), stuffed peppers (£4) and warm pitta bread (£1.50).
Punjabi restaurant Tayabbs in Whitechapel is famous for its grilled lamb chops (£7), and loved for its corkage-free bring your own bottle policy. Its small but well executed menu also stars rich dahls (£6) and slow-cooked lamb curries (small main dishes starting at £7.50), as well as daily specialities (starting at £7.50). If you haven't booked a table, be prepared to queue!
Pick a meze dish or two (£2-£6.50), a kebab (£10.50) and a baklava (£3) for an authentic three-course Turkish meal at Mangal Ockabasi in Stoke Newington for no more than £20. Everything is freshly cooked on the restaurant's open charcoal grill.
Try some spicy Sichuan cuisine at Chinatown's Baozi Inn. The cheap and cheerful menu is full of noodles, dumplings and buns, and the décor certainly has a Communist Revolution flavour to it. Grab some Sichuan spicy beef with noodles or rice for just £5.80.
What do chefs Dennis Mwakulua, Sophie Wright, Ben Murphy, Jamie Oliver and Ainsley Harriott have in common? They all graduated from Westminster Kingsway College, and practised their craft in the college's Vincent Rooms restaurants. Support the college's finest young chefs and eat a great meal for a reasonable price in the European-style The Brasserie (with mains starting at £9.00). You can also try the slightly pricier Escoffier Room's tasting menu for just £27.50 (£55 with matching wine).
More ways to find cheap dining
Check out Bookatable for deals on cheap meals. These are a great way to fund a special occasion for less or try somewhere new.
Explore by category