London is home to a huge range of cheap and affordable eating options - from street markets to restaurant specials, a great lunch doesn't have to break the bank. Take a look at our pick of London's best cheap eats.
Best cheap international restaurants in London
You can find just about every global cuisine in London, often at great value.
The Real Greek
Stop at any of The Real Greek's 10 London locations for a three-course lunch including flatbreads, dips, meat or vegetable skewers and more. For £7.95, this is a great affordable restaurant in London.
Chinatown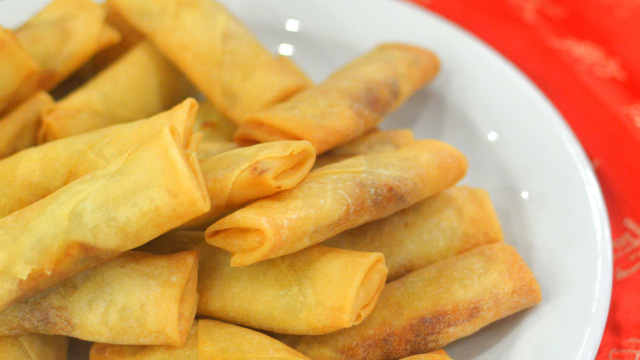 Choose from dozens of Chinese restaurants in London's Chinatown for an affordable lunch option. Try the Golden Dragon for cheap dim sum starting at £3 to £4 per dish, or Old Tree Daiwan Bee for Taiwanese street food such as Taiwanese braised pork rice for £3.50.
Indian Veg
Head down to Chapel Market in north London to find Indian Veg's all-you-can-eat vegetarian buffet. Popular with a younger crowd before a night out, this is definitely good value Indian fare at only £7.95.
E. Pelicci
Step inside this Grade-II listed cafe to discover home-style cooking at prices that are hard to argue with. The family behind E. Pellicci has been serving honest Italian food and amazing sandwiches since 1900 in their Bethnal Green Road spot. Try the homemade Penne Pellicci for £7 or a rump steak and onion ciabatta for just £4.40 for a great cheap lunch option.
Best street food markets for cheap food
Street food markets continue to grow in popularity, and with a great eclectic mix of cuisines for you to try, usually at a low price, it's easy to see why.
Berwick Street Market
Take your cheap lunch on the go from the many options at Berwick Street Market. Try everything from Asian street food, Greek souvlaki, Afghan dishes and homemade ravioli, to Asian waffles, burritos, Mediterranean salads and falafel.
Brixton Village Market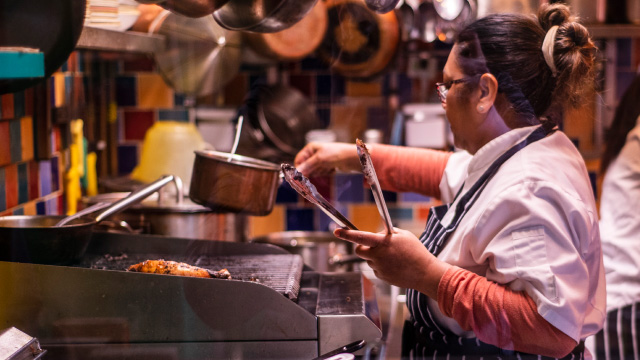 Under the arcades of Brixton Village you'll find more than 20 cafes and restaurants serving dishes from all over the world, every day of the week, from Taiwanese bao buns for £4, to classic pies for just £5.50. You could even restaurant hop between courses.
Lower Marsh Market
Combine cheap eats with artisan shopping at Lower Marsh Market. Hawaiian poke, Japanese burgers, Italian street food, Peruvian specials - just a few of the options available six days a week.
Best cheap London fast food
Fast food isn't limited to global chains - London has plenty of unique cheap fast food options.
Chik'n
Head down Baker Street to find Chik'n, who are "changing fried chicken for the good." Go for the Chik'n Hot Sandwich for £5.95 or a Popcorn Chik'n bucket on the go for just £3.95.
Mayfair Chippy
London isn't short on fish and chip shops and the Mayfair Chippy is among those who have this British classic down to a fine art. Choose from cod, haddock, scampi or plaice and chips all for £10.50, served straight to your table.
Best cheap vegan and vegetarian restaurants
London's budget-friendly bites are not limited to meat-eaters. There are plenty of vegan and vegetarian cheap eats to hunt down in the city.
Madison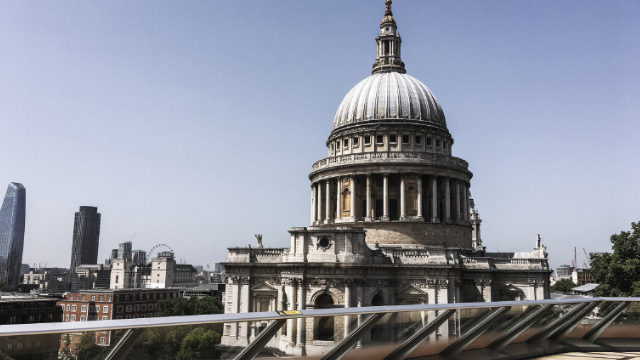 Boasting one of the best restaurant views in London, looking straight onto St Paul's Cathedral's magnificent dome, Madison offers a two-course lunch, with a glass of wine for just £20. Or add a third course and upgrade to bubbles for £30.
222 Veggie Vegan
Go hungry, leave full in West Kensington where 222 Veggie Vegan offers a healthy, all-you-can-eat buffet for £11.50 (£9.50 takeaway). With no fried foods or refined ingredients, this is a great option for a healthy lunch in London too.
Best lunch deals in London
Some of London's top restaurants have lunch deals that allow you to eat well without breaking the bank.
Brasserie Zédel
Take in the grand art deco interior of Parisian-style restaurant Brasserie Zédel while enjoying a two-course lunch for just £10.50, or three courses for £13.75. The menu currently includes steak frites and chocolate délice.
Bob Bob Ricard
Known for the "press for champagne" buttons found at each table, Bob Bob Ricard has introduced off-peak pricing. During lunchtimes from Monday to Thursday, you can enjoy some of the restaurant's signature dishes at up to 25% off the regular price, including lobster macaroni cheese for £20.50 (usually £26.75). Even the caviar is reduced, starting at £22 instead of £29.
Explore by category