From techno bingo and ping pong to electric shuffleboard, check out thrilling ways to test your sporting skills with these top indoor activities in London bars.
1. Axeperience Axe Throwing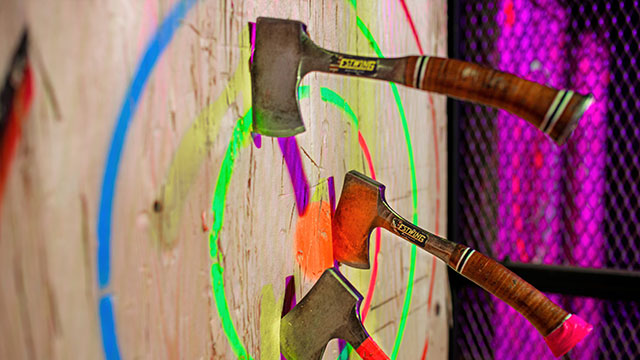 Bring out your inner Viking with an urban axeperience near Tower Bridge. Learn the art of axe throwing with a professional at Axeperience Axe Throwing and discover how it's become one of the capital's favourite indoor activities. Get your competitive spirit fired up with pals or simply kick back with a mouth-watering mocktail.
2. Baranis
Transport yourself to southern France and a sophisticated bar that's home to the UK's only indoor Pétanque court. Spend a memorable evening at Baranis, gaining some impressive new skills and getting a taste of Provence, as you soak up the elegant 1940's French vibe in Chancery Lane.
3. Ballie Ballerson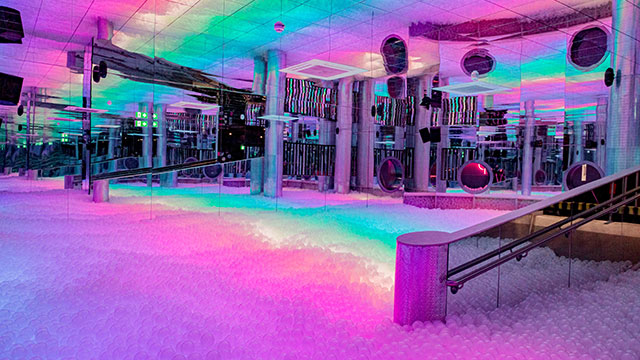 Dive into London's most famous ball pit and relive all the fun of your childhood at Ballie Ballerson, the vivacious Shoreditch venue that tops everyone's bucket list for activity bars. Be dazzled by an intoxicating mix of rainbow ball pits, neon lights and delicious retro cocktails. Take lots of photos as this one is fab for the gram.
4. Bounce
Get your adrenaline fix with a fast-paced game of ping pong at Bounce in the lively locations of Old Street and Farringdon. Immerse yourself in the big-city pulse and enjoy a vibrant fusion of group activities in an electric atmosphere, while dancing up a storm or feasting on pizza.
5. Electric Shuffle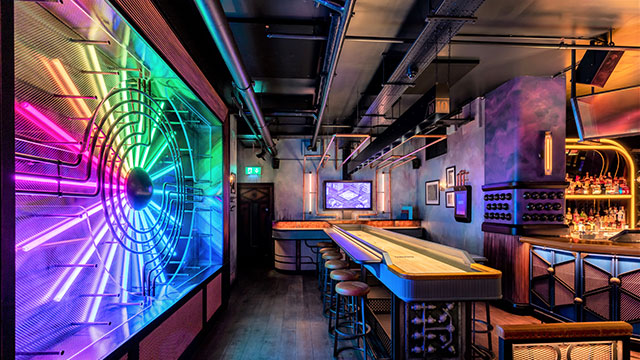 Enjoy a much-loved game of shuffleboard with a twist, at Electric Shuffle. Mixing a centuries-old pastime with a supercharged gaming experience, this is shuffleboard revolutionised. Full of surprises and a variety of interactive games, this new concept n Canary Wharf and London Bridge is a lively addition to London's activity bars and makes playing shuffle endless fun.
6. Hijingo
Take the bullet train to futuristic Tokyo and be awed by bright lights and cocktails that delight, at Hijingo. Experience a sensory overload as you spend an evening playing a high-octane game of bingo and interacting with robots at one of London's newest indoor activities. Savour all things Japanese in a fusion of fun and entertainment in Shoreditch.
7. Flight Club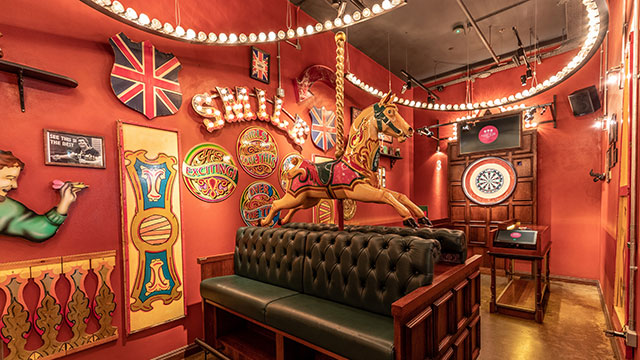 Enjoy the cosmopolitan vibe of the uber-cool Flight Club. Combining a friendly pub atmosphere with a Victorian-inspired fairground of fun, this high-tech social darts experience hits the bullseye. With a long, illustrious history, darts is a game everyone should try and now you can in Bloomsbury, Islington, Shoreditch or Victoria.
8. Sixes Social Cricket
Sports-lovers can join forces with pals for a lively game of cricket at Sixes Social Cricket clubhouses in Fitzrovia or Fulham. Combining cutting-edge technology with a high-energy atmosphere, you can test your batting skills. Take your guard, swing hard and score some winning runs in the interactive batting net.
9. TeamSport Go Karting
Channel you inner Formula 1 champion as you compete for the fastest lap at the Docklands' indoor karting venue, TeamSport Go Karting, the perfect pit stop for group activities. Feel the adrenaline rush as you race through the twists and turns of multi-level tracks in a race to the podium.
10. Queens
Discover this hidden gem near Hyde Park and get bowling and rolling at
Queens
. Perfect for group activities and with 12 bowling lanes, you can bowl the night away or dance on ice at the indoor ice rink.
Explore by category