Was That a Dream?
From to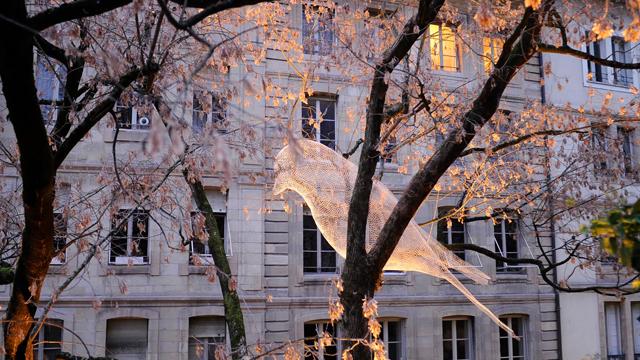 About
That night in Berkeley Square there was magic abroad in the air... French artist Cédric Le Borgne's ethereal and illuminated sculpture Was That a Dream? appears and disappears in the sky. It contemplates the city, explores it, caresses it.
These beautiful birds are illuminated against the night sky. Sitting on rooftops, frozen mid-air in flight, the sculptures made of light invite us to glance up and around, offering the possibility of connection between the sky and the ground, between dream and reality.
Le Borgne (France) invites everyone to view daily life in a fresh way, to rise up, to dream. By abolishing barriers, his work exploring spaces is sensitive and his poetry subtly interacts with each place it comments on. From sculptures made of chicken wire to photo or video, from perennial installations to spontaneous performance, from street-art to web-art, his work is free of formal constraints.
What's nearby?
Enjoy cocktails at The May Fair Bar and dine in style at May Fair Kitchen, either side of visiting the other Mayfair installations.
The programme may be subject to change or cancellation due to circumstances beyond the event organiser's control.
Lumiere London is a free festival produced by Artichoke - a small charity with big ideas. Artichoke creates art for the enjoyment and wellbeing of millions of people. Your donations enable them to help keep their events free and support their work around the UK.
Venue Details & Map
Address

Berkeley Square

London

W1J 6AF