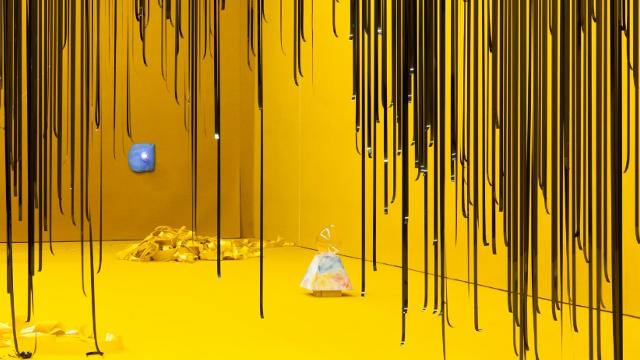 Discover contemporary art and performances for free in iconic and hidden East End spaces for one night only.
Read More
About
Follow a trail of art across London's East End during the all-night arts festival, Art Night.
Now in its second edition, Art Night presents a free one-night programme of contemporary art, performance, music and architecture, which takes place from early evening until dawn and moves to a different part of London each year.
Curated by Fatos Ustek in collaboration with the Whitechapel Gallery, this year's event comes to London's East End with a dozen art projects popping up in unusual and iconic locations between 6pm and 4am. Many of the works are site-specific and directly engage with the culture and heritage of the area.
Highlights of Art Night 2017
•Explore Charles Avery's fictional island though a series of objects and installations scattered around St Katharine Docks and other areas of East London.
•Descend into Tower Bridge's Bascule Chamber for an illuminated meditation session presented by Ian Whittlesea.
•Spot twisted prints by brothers Jake and Dinos Chapman among the furniture of 18th-century Dennis Severs' House, and see them bring to life an empty warehouse at London Dock.
•Reflect on the socio-political issues addressed by Benedict Drew in a live multi-media work at Whitechapel Gallery.
•Experience Anne Hardy's installation, mixing sound, light, colour and sculpture, in the Nicholls & Clarke showrooms.
•Watch Melanie Manchot's mass dance performance inspired by cultures from around the world in Broadgate's Exchange Square.
•Finish off the night at the Village Underground's Club Night featuring Alva Noto and more DJs.
The festival is supported by international auction house Phillips, and receives public funding from the National Lottery through Arts Council England.
Images