Pearly Kings and Queens Harvest Festival 2021 at Guildhall Yard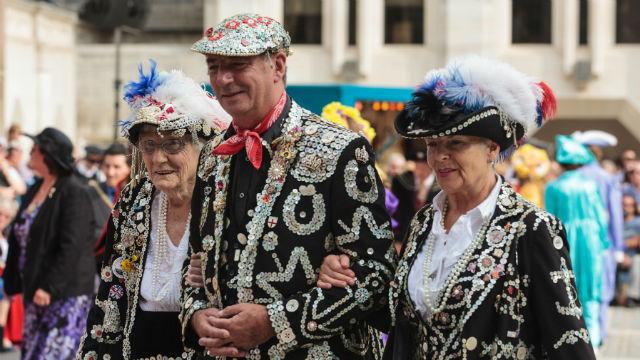 This event has finished.
Celebrate the harvest with London's Pearly Kings and Queens at and around the Guildhall Yard, as they're decked in their pearl-button finery.
About
Join the Pearly Kings and Queens Harvest Festival 2021 celebrations at Guildhall Yard, and experience London's historic Pearly tradition.
Dressed in their best dark suits covered in hundreds of bright pearl buttons, the Pearly Kings and Queens of London are a charming and unforgettable sight.
Getting together for the biggest event in the Pearly calendar, they celebrate the bounty of the autumn harvest with traditional entertainment in front of the Guildhall, before parading through the streets to St Mary Le Bow Church for a service of thanksgiving.
Expect Morris dancing, maypole dancing, marching bands and lots of colourful characters at this traditional event.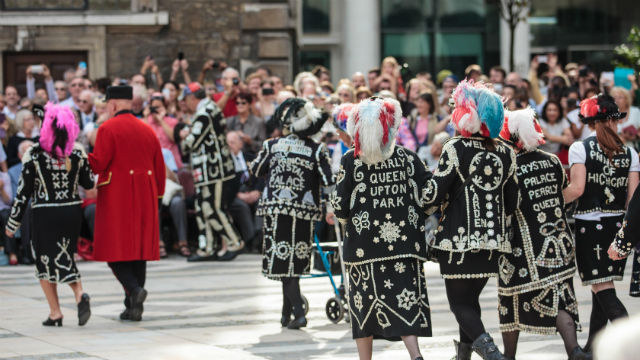 Who are the Pearly Kings and Queens?
The tradition of the Pearly Kings and Queens was started in the 19th century by Henry Croft, an orphan who worked as a street sweeper in the market of Somers Town, London.
Inspired by the Costermongers, a close-knit group of market traders who looked after one another and were recognisable by buttons sewn onto their garments, Henry went out on the streets to collect money for charity, wearing a suit covered in pearl buttons to attract attention. When demand for his help became too much, Henry asked the Costermongers for assistance, many of whom became the first Pearly families.
Running through the family, the tradition continues to this day: Croft's great-granddaughter is the Pearly Queen of Somers Town, and many Pearly Kings and Queens are carrying on Henry Croft's charitable aims to this day.
During the event, pop into St Martin-in-the-Fields Church to see a statue of Henry Croft in the crypt.