London cycle shops and cafes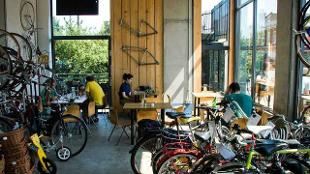 Are you planning on bringing your bike to London? We've picked the top London bicycle-friendly venues to visit, from cycle shops and workshops, to cafes where you'll be able to meet fellow cycling enthusiasts.
With thousands of cyclists flooding into the capital for RideLondon every year and many local cycling fans, you'll find plenty of other like-minded people at these London cycling hangouts. Pick up the latest accessories and clothing at specialist cycle shops in London, watch races on big screens at bike cafes, and even have your bicycle serviced by experts.
If you don't have your own bike, hire one of the Santander Cycles so you can explore some of the many London cycle routes. Find out more about cycling in London.