Bonfire Night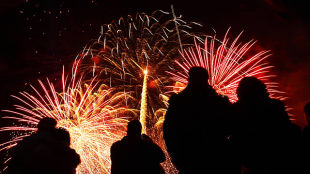 Most of the Bonfire Night 2020 events have been cancelled due to the coronavirus outbreak. Plan ahead for next year below or find more things to do in London this autumn.
Remember, remember the fifth of November... Celebrate Bonfire Night in style at a spectacular London fireworks display.
Bonfire Night is also known as Fireworks' Night or Guy Fawkes Night. It's a British tradition dating back to the Gunpowder Plot of 1605, when Catholic conspirator Guy Fawkes tried to blow up the Houses of Parliament and King James I.
To this day, it is customary for the cellars in the Houses of Parliament to be searched by the Yeoman of the Guard before each State Opening of Parliament.
The anniversary of Fawkes' arrest on 5 November (sometimes known as Guy Fawkes Day) is celebrated each year with bonfires and fireworks in London. Effigies of Guy Fawkes are often burned on top of the bonfires. You can usually look forward to numerous local firework displays in London featuring Bonfire Night food and drink, family entertainment and funfairs.
Here's our round up of London's best annual Bonfire Night fireworks displays.