Travel to Pride in London Events: 8-9 July
Due to the location of Pride in London's main events on the weekend of Saturday 8 and Sunday 9 July 2017 large parts of the West End will be closed, including Oxford Street. This means you should allow for extra travel time, as getting around London can be more difficult than usual.
Use TfL's journey planner to check for delays or planned closures on the day, and find the most accessible ways to travel to the event sites.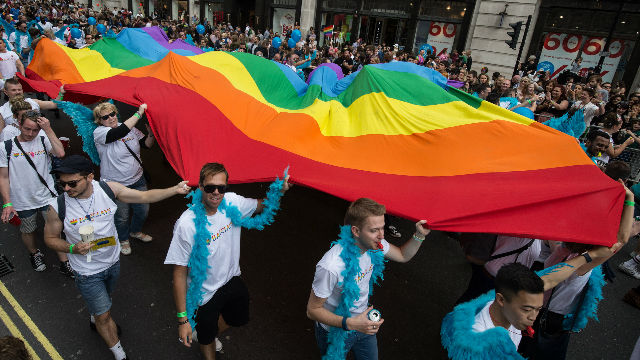 By Tube
If you're travelling by Tube to London's Pride parade, Trafalgar Square or Soho, it is advisable to get off one stop before and walk as the stations will be crowded. Please allow plenty of time for your journey to the parade.
For the start of the parade route, please use Baker Street station. Stations near to the route include Tottenham Court Road, Leicester Square, Green Park, Charing Cross, Embankment, and Westminster.
For the main stage in Trafalgar Square, the nearest stations are Embankment, Charing Cross, and Leicester Square.
On Saturday 8 July and Sunday 9 July, the Circle and Hammersmith & City lines will be closed between Hammersmith and Edgware Road.
Always check for updates before travelling and take a look at the guide for step-free stations for an accessible journey.
By Bus
The Pride in London parade will affect buses in the Baker Street, Berkeley Square, Embankment, Hyde Park Corner, Marble Arch, Marylebone, Oxford Circus, Piccadilly Circus, Tottenham Court Road, Trafalgar Square and Westminster areas. Buses in these areas will be temporarily diverted or stop short of their normal destination on Saturday 8 July. 
A full list of affected routes during Pride in London 2017 celebrations will be available soon, and check TfL's latest bus status updates for up-to-the-minute information.
By Rail
Charing Cross railway station is a short walk; while Waterloo is a 15 to 20-minute walk or short Tube ride from the main Pride in London festival location in Trafalgar Square. Other key stations such as Euston, King's Cross, Liverpool Street and Victoria also have relatively quick Tube connections to the main festival areas. 
There are currently no planned engineering works or disruptions on Saturday 8 July, but this may change. Check for updates before you travel.
Cycling
There are several docking stations for Santander Cycles around Central London. Docking stations will be closed on Saturday 8 July in various roads around Soho, as well as in Golden Square and Soho Square. There will also be several road closures in Soho and Westminster. Find out more about cycling in London.
Walking
The Pride in London parade route is about 2 miles (3.2km) long. You can usually walk between Trafalgar Square and Soho in about 10 minutes, but this can take longer during Pride because of the crowds, so allow extra time for getting around. Your route may also be affected by road closures.
By Car
Avoid driving into Central London, as there will be several road closures and parking restrictions in Soho and Westminster. The congestion charge does not apply at weekends. Check for traffic status updates on the day.
By Taxi
Black cabs are the only types of taxis that are legally allowed to stop when you hail them from the side of the road. They have a white licence plate on the boot and a smaller one inside, and an orange "TAXI" sign on the front.  All licensed minicabs have a yellow diamond sticker in their front and back windscreens. Download one of the official London taxi and minicab apps to plan your journey.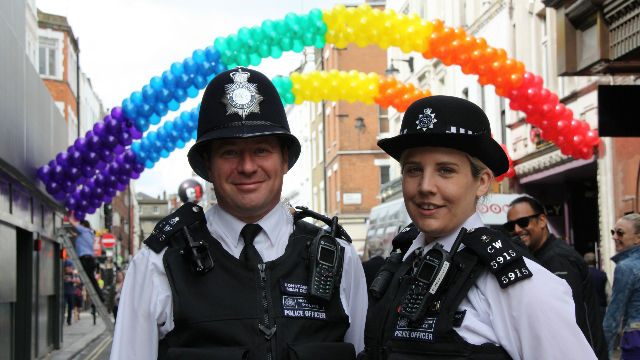 Staying Safe
The event organiser, Pride in London, wants London's Pride event to be a safe space for everyone. Stewards are there to help you and to ensure it is safe. No form of abuse or harassment is tolerated at Pride, including but not limited to: homophobia, biphobia, transphobia, racism, sexism and ableism. Please speak to a steward or police officer if you witness any abuse or if you notice anything suspicious. Discover how Pride in London makes its events accessible to all. 
Be aware of your own safety and look after your belongings. You can call the police by dialling 101. In an emergency, always dial 999 for the police, fire or ambulance service.
Follow our guide to staying safe in London, and discover more about Pride in London and its work. 
Travelling to London for Pride
There are many ways to travel to London for the Pride in London festival. You could arrive from other areas of the United Kingdom via coach, train or car; or travel from continental Europe via Eurostar to St Pancras International Station. 
If you're planning to fly into one of London's airports; consider Pride in London's official sponsor, Delta Airlines, which flies into London Heathrow.
Find out more about this year's Pride in London festival, including the many events taking place across London.