Pride marches and parades first began in London in 1970, when 150 people gathered in protest with a voice and a call for equality. Two years later, 2,000 people gathered in Central London, marking the country's first official Pride rally.
Pride in London is an organisation that puts on events all year and campaigns for issues that are important to the LGBT+ community. It holds a two-week LGBT Pride in London festival every summer with Pride in London events across the city. The festival concludes with London's spectacular Pride parade through the West End.
Campaigning for equality
Pride in London's aim is to give every part of the LGBT+ community a platform to raise awareness of LGBT+ issues and to campaign for the equality that every individual deserves.
Sometimes referred to as Gay Pride in London, the event is inclusive of the whole LGBT+ community and beyond, embracing all sexualities, gender identities and cultures – so that everyone is welcome to parade through the heart of the West End. The annual two-week festival and march through London gives the community the chance to be visible to the rest of the city; showcasing the community as a whole, what it has achieved, and how campaigners are still fighting for true equality.
Find out how to travel to the main events on Saturday 8 and Sunday 9 July 2017, and discover other Pride events during the two-week festival.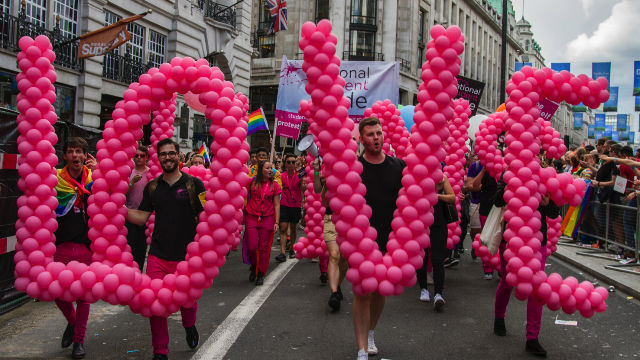 Why Pride in London exists
This year marks 50 years since the partial decriminalisation of homosexuality in England and Wales, and three years since England and Wales voted to legalise same-sex marriage, giving same-sex couples the same legal rights as straight ones.
The LGBT+ community has come a long way in those 50 years, yet it faces daily reminders that the global battle for true equality is far from over, and hard-won rights can be threatened, attacked and taken away.
It has taken Pride campaigners many years to secure legal equality for the whole community, and there is still work to do.
Pride in London exists to continue to fight for true equality and challenge prejudices that the LGBT+ community still faces on a daily basis.
Find out all about Pride in London 2017, learn how you can get involved in volunteering opportunities and discover more about Pride in London's commitment to accessibility and equality.