Sponsored by: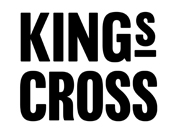 Architecture Social Club, a British collective of designers, architects, technicians and poets, presents Aether, an emotive and powerful light and sound installation. Be amazed as its glittering mass grows, rolls and splinters in reaction to the soundscape created by music producer Max Cooper. Experience how this fascinating artwork connects form, colour and music to our emotions, creating an interactive sensory experience.
The Architecture Social Club design studio specialises in bespoke collaborative projects ranging from spatial experiences to beautifully crafted objects, on scales spanning the miniature to the enormous, in impossibly ambitious creations.
What's nearby?
Arrive in time to visit House of Illustration (final admission 5.30pm, closed Mondays). Here, you'll discover more about Roald Dahl's legendary illustrator, Quentin Blake, in a special exhibition. After seeing the King's Cross installations, take your pick from the many eateries in Granary Square, from classic pub grub at The Lighterman, to Greek delicacies at The Greek Larder. Alternatively, enjoy modern European dishes fresh from the grill at nearby Golden Arrow.
The programme may be subject to change or cancellation due to circumstances beyond the event organiser's control.