Sponsored by: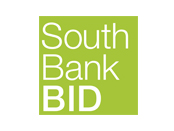 Look on as German digital artist Ulf Langheinrich transforms the National Theatre's flytower (viewed from Upper Ground) into a luminous monument, glowing along the South Bank's skyline. OSC-L interacts with the hard concrete of Denys Lasdun's brutalist building, animating it in a liquid stream of light.
Langheinrich is a visual artist and composer. His work is mainly concerned with non-narrative environments and performances focusing on a specific approach to time, space and body. After studying industrial design, he conducted audio-experiments using pipe organs, harmoniums and multiple tape machine environments, as well as engaging mainly in drawing.
In 1984, the East German-born artist crossed the border to West Germany, where he started to develop the basics of his language in painting, photography and electronic music. Since 2003, he has been realising various large-scale solo projects including Drift, Waveform and Hemisphere. In 2005, he was given a Siemens stipendium (scholarship) and was a "featured artist" at the Ars Electronica Festival.
Find out more about the technicians who have helped to make this installation possible.
What's nearby?
From here, you could find yourself going on an adventure with Pinocchio at the National Theatre, catching the latest documentaries and short films at BFI Southbank or big screen hits at BFI IMAX. Check out Skylon's pre- and post-theatre menus with their side helping of special views; while Giraffe's all-day classics and Wahaca's Mexican-style small plates are great for the little ones. If you fancy a drink, Las Iguanas offers 2-for-1 cocktails during the festival. And don't forget to see the other installations along the South Bank and Waterloo.
The programme may be subject to change or cancellation due to circumstances beyond the event organiser's control.