DesVins Cafe and Wine Bar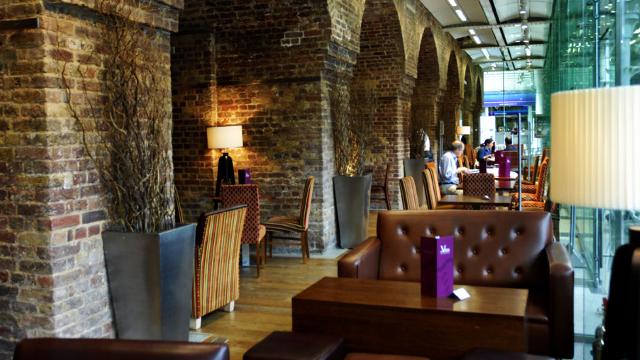 The revamped St Pancras International station may contain Europe's longest champagne bar, but DesVins is THE place to go for wine.
Mehr erfahren
Übersicht
Serving more than 20 varieties by the glass, DesVins conserves its wines' taste, aroma and colour with a special "enomatic" wine-serving system, which uses a nitrogen gas preservation process.
Details zum Veranstaltungsort und Karte
DesVins Cafe and Wine Bar
Adresse:

St Pancras Station
Pancras Road

London

N1C 4QL

Telefon:

+44 20 7713 8730
Yelp-Rezensionen
2.00

von

5


Basierend auf

3

Rezensionen
Top 3 Rezensionen von
DesVins Cafe and Wine Bar
DesVins Cafe and Wine Bar
16 August 2015
Customer service definitely lacks for this establishment.
A dark-haired guy (server) who was working at the time obviously ignored our presence and when he was approached as if we were a nuisance to him. Being new to St Pancras and London (our 1st visit) we weren't sure how they operated so we sat down at one of the outside tables. He saw us but never offered any assistance. I proceeded... Mehr erfahren
DesVins Cafe and Wine Bar
17 March 2016
A new record!! Been here 28 minutes waiting for a cappuccino! Its not even busy. Pure garbage! Wont be here again! Mehr erfahren
DesVins Cafe and Wine Bar
14 March 2009
Absolutely atrocious! I was at St Pancras station, with a craving for cheese, so I popped in and bought one of their chees platters and a glass of wine.
The wine was OK, if nothing special. The cheese, on the other hand, appeared to have come straight out of a freezer. There was even some (previously) soft goats cheese which had melted a little out of shape, but was now so cold as to be... Mehr erfahren