London is currently subject to national coronavirus restrictions.
Make sure to follow the latest government guidelines and act responsibly when out and about.
If you're not able to visit London, you can still experience the capital from your sofa with our Virtually London guide. London looks forward to welcoming you back soon!
Can I travel to London?
There are restrictions in place for people travelling to London, and international visitors arriving from certain countries are currently prohibited from entering the UK.
Make sure to follow the rules around self isolation, providing contact details and getting tested before you travel. You will also be required to quarantine in a hotel for 10 days when travelling from certain countries.
Find out everything you need to know about travelling to the UK.
Latest London coronavirus lockdown rules
What are the current national restrictions?
London is currently subject to national coronavirus restrictions.
You should continue to minimise your amount of travel. If you do need to travel, limit your journeys, plan ahead and avoid busy times on public transport – walk or cycle where possible.
You can meet outdoors in either a group of up to six people, or in a group of any size from up to two households.
As part of step two of the easing coronavirus restrictions, you're also now able to stay overnight in self-contained accommodation with your household or bubble.
Find out more about the current coronavirus restrictions in London.
What are the steps for lifting the London lockdown?
The UK government has announced the following provisional steps for easing lockdown in London and the rest of England.
Step one: From 29 March, you can meet in a group of up to six people or two households outdoors.
Step two: From 12 April, all shops can reopen in London. You can visit outdoor attractions such as zoos and drive-in cinemas, and sit outdoors for a meal or drink at hospitality venues. Self-contained accommodation can also welcome guests from the same household or bubble.
Step three: From 17 May, you'll be allowed meet in a group of up to six people or two households indoors, and a group of up to 30 people outdoors. You'll be able to return to the city's indoor attractions, entertainment and hospitality venues, including museums, galleries, pubs, bars, restaurants and theatres. Accommodation across London can also reopen.
Step four: From 21 June at the earliest, there won't be any legal limits on social contact. Nightclubs will also be allowed to reopen their dancefloors.
For more information, take a look at the UK government's full roadmap out of lockdown.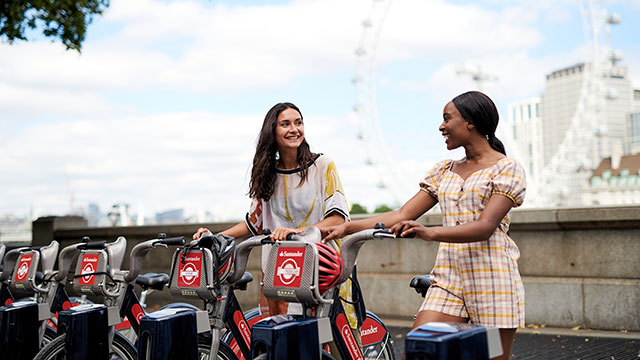 London attractions, venues and events
London's attractions, leisure venues, pubs, restaurants and non-essential shops are due to reopen on phased dates following the proposed easing of coronavirus restrictions. Find out what's open and when in the capital.
Many hospitality venues and shops are also still running delivery, takeaway and click-and-collect services, so you can continue to support all your favourite local businesses.
Most outdoor attractions are open for exercise and recreation, including London zoos and farms, theme parks and outdoor cinemas.
Major London events may have been postponed, cancelled or moved online due to the coronavirus pandemic.
Plan ahead and take a look at the top London activities after lockdown.
Staycations in London
If you're dreaming of visiting London on a staycation, plan ahead and make sure to read the latest guidance on planning a holiday in England, which includes detailed information on what to do if you feel unwell during your trip.
Check which coronavirus restrictions apply before your trip to London, including certain rules around travel and overnight stays.
Guidance for staying safe
If you need to travel, it is advised that you make your journey by cycling or walking.
If you make a journey on public transport, you should avoid travelling at peak times and wear a face covering. For the latest travel information, visit the Transport for London website.
Plan ahead and get around London safely with the TfL Go app, which helps you plan the best routes and travel outside of peak times to aid social distancing.
Visit the official UK government website to find out more about restrictions due to coronavirus and how to stay safe outside of your home, including social distancing guidelines.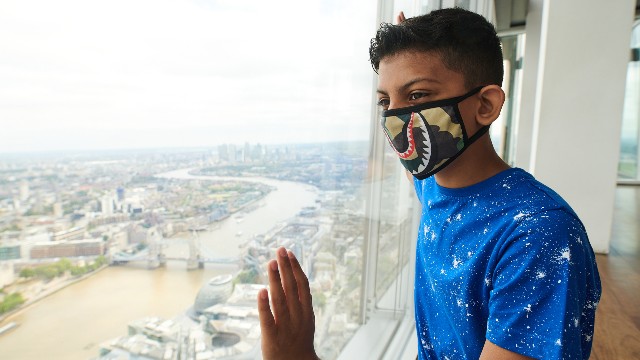 Face coverings
It is mandatory to wear a face covering on all public transport, in taxis and private-hire vehicles, and public indoor settings, including shops and supermarkets.
Find more information on face coverings and where you should wear one in London.
How will coronavirus impact my travel to London?
People are required to continue observing social distancing – follow the guidelines to stay safe outside your home.
Find out what to do if you feel unwell during your trip to London. There are specific procedures in place for anyone experiencing symptoms, with further information on the official UK government website.
You can also find further advice on the NHS website, including how to get a free test for coronavirus.
To avoid the spread of the virus, make sure you:
Wash your hands for at least 20 seconds using soap and warm water. Use hand sanitiser if you do not have access to water.
Cover your mouth and nose with a tissue (not your hands) when sneezing or coughing.
Clean and disinfect regularly touched objects and surfaces to reduce the risk of spreading germs.
Limit contact with other people and stay two metres away from others outside of your household.
Wear a face covering in enclosed public spaces and when travelling on public transport. This measure applies across all TfL services.
Pre-booked tickets
Due to the UK government recommendations, the Society of London Theatre (SOLT) and UK Theatre venues have ended some current performances – visit the Official London Theatre website for information about refunds and exchanges.
If you have tickets for a performance, event or attraction affected by London's coronavirus restrictions, your ticket provider will contact you to discuss exchange or refund options.
If you've booked tickets through visitlondon.com, refer to these
booking FAQs
for more information and contact details.
More useful information
To ensure the places you visit are adhering to government and public health guidance, you'll start to see the "We're Good to Go" industry standard mark. This is available to UK venues and businesses to signal that they've put in place special safety measures due to the coronavirus pandemic.
Look out for the "See it Safely" mark, which ensures that theatre venues are following coronavirus safety guidelines and social distancing measures.
You can also nominate your local small businesses and encourage them to sign up to the Pay it Forward platform to generate funding and recover from the impact of COVID-19.
Visit the official UK government website for the latest information on the coronavirus pandemic, or find more coronavirus guidance on the NHS website.
Last updated: 12 April 2021