London Hostels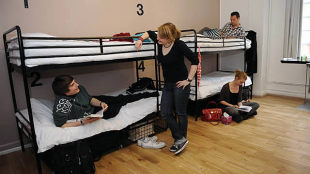 Are you looking for cheap accommodation in London? Try one of the city's many hostels.
London hostels offer a wide range of prices, services, locations and levels of comfort. If you're looking to meet other travellers, look for hostels with dorms, bars and communal areas. If you'd prefer somewhere quieter, some hostels offer private rooms and ensuite facilities.
You Might Also Like
Hostel

100 - 102 Westbourne Terrace, Paddington, W2 6QE [map]

We're proud to announce that Equity Point London has just won the 2011 Best Accommodation in United Kingdom Award given by the British Educational Travel Association (BETA) on its BYTA Awards. Equity Point has opened a new property in the Paddington area called The Equity Point London. It's loca

Hostel

144-152 Walworth Road, Elephant & Castle, SE17 1JL [map]

Safestay @ Elephant & Castle, Southwark, is a high-end budget hostel, situated walking distance from London's South Bank area and within easy access to Central London.

Hostel

Langton Close, Wren Street,

A self-catered hall of residence housing 270 people in a flat format. This property is suitable for group bookings.