London Hostels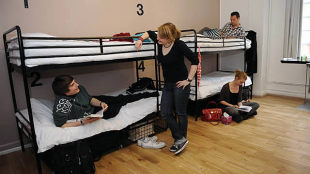 Are you looking for cheap accommodation in London? Try one of the city's many hostels.
London hostels offer a wide range of prices, services, locations and levels of comfort. If you're looking to meet other travellers, look for hostels with dorms, bars and communal areas. If you'd prefer somewhere quieter, some hostels offer private rooms and ensuite facilities.
You Might Also Like
Campus

Wigram House 84-99 Thirleby Road, SW1P 1HH [map]

Seven storey mansion block in late-Victorian style, a few minutes' walk from Victoria station, offering single and twin rooms on a self-catering basis in quiet residential area.

Hostel

233 Willesden Lane, NW2 5RP [map]

Hillspring Lodge is a boutique hostel with a contemporary and relaxed feel and plenty of stylish common areas to chill out. Offering private en suite rooms and shared dorms in North London (zone 2).

Hostel

178 High Holborn, WC1V 7AA [map]

High Holborn offers great value bed and breakfast accommodation in the heart of London and is ideal for Covent Garden and the West End. Rooms are arranged in cluster flats sharing bathroom and kitchen facilities.