London Hostels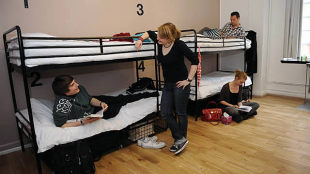 Are you looking for cheap accommodation in London? Try one of the city's many hostels.
London hostels offer a wide range of prices, services, locations and levels of comfort. If you're looking to meet other travellers, look for hostels with dorms, bars and communal areas. If you'd prefer somewhere quieter, some hostels offer private rooms and ensuite facilities.
You Might Also Like
Campus

1-5 Lambeth Road, SE1 6HU [map]

Small hall of residence in Waterloo, 15 minutes from the Houses of Parliament and South Bank, offering accommodation in single or twin rooms on self-catering basis. Ideal for sightseeing.

Hostel

100 - 102 Westbourne Terrace, Paddington, W2 6QE [map]

We're proud to announce that Equity Point London has just won the 2011 Best Accommodation in United Kingdom Award given by the British Educational Travel Association (BETA) on its BYTA Awards. Equity Point has opened a new property in the Paddington area called The Equity Point London. It's loca

Hostel

40 Belsize Park Gardens, Camden, NW3 4NA [map]

Belsize House is ideally situated in a much sought-after residential area close to Belsize Park Tube station and within walking distance of Hampstead Village, Regent's Park & Lord's Cricket Ground.