London Hostels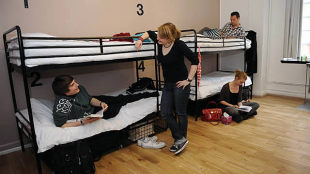 Are you looking for cheap accommodation or cheap hotels in London? Try one of the city's many hostels.
London hostels offer a wide range of prices, services, locations and levels of comfort. If you're looking to meet other travellers, look for hostels with dorms, bars and communal areas. If you'd prefer somewhere quieter, some hostels offer private rooms and ensuite facilities.
You Might Also Like
Hostel

Langton Close, Wren Street,

A self-catered hall of residence housing 270 people in a flat format. This property is suitable for group bookings.

Hostel

55/57 Bayham Street, Camden, NW1 0AA [map]

Smart Camden Inn Hostel is perfectly located in the heart of London, near one of London's trendiest areas and only a short walk from the world famous Camden Market.

Hostel

48 - 50 Inverness Terrace, Bayswater, W2 3JA [map]

Smart Hyde Park Inn is located in the heart of Central London, close to Hyde Park and near Portobello Market, Oxford Street and Knightsbridge. The hostel is perfectly placed for a memorable stay!