London Hostels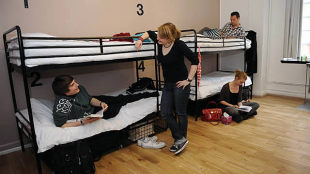 Are you looking for cheap accommodation in London? Try one of the city's many hostels.
London hostels offer a wide range of prices, services, locations and levels of comfort. If you're looking to meet other travellers, look for hostels with dorms, bars and communal areas. If you'd prefer somewhere quieter, some hostels offer private rooms and ensuite facilities.
You Might Also Like
Hostel

121-122 Bayswater Road, W2 3JH [map]

A beautifully converted hotel, the Smart Royal Bayswater is one of the only hostels in Central London to offer ensuite facilities in every room!

Campus

18-24 Fitzroy Street, W1T 4BN [map]

LSE Carr-Saunders Hall is situated in London's West End, amongst theatres, museums, parks, art galleries and shopping in Oxford Street and Covent Garden. Open during the summer, spring and Christmas.

Campus

24 Sumner Street, Southwark, SE1 9JA [map]

Situated on the South Bank next to the Tate Modern. Bankside House provides modern bed and breakfast accommodation, with a restaurant, television, bar and laundry facilities.