London Hostels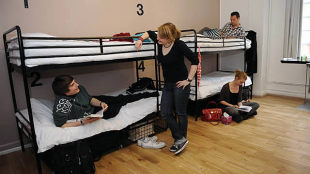 Are you looking for cheap accommodation in London? Try one of the city's many hostels.
London hostels offer a wide range of prices, services, locations and levels of comfort. If you're looking to meet other travellers, look for hostels with dorms, bars and communal areas. If you'd prefer somewhere quieter, some hostels offer private rooms and ensuite facilities.
You Might Also Like
Campus

24 Sumner Street, Southwark, SE1 9JA [map]

Situated on the South Bank next to the Tate Modern. Bankside House provides modern bed and breakfast accommodation, with a restaurant, television, bar and laundry facilities.

Hostel

55/57 Bayham Street, Camden, NW1 0AA [map]

Smart Camden Inn Hostel is perfectly located in the heart of London, near one of London's trendiest areas and only a short walk from the world famous Camden Market.

Hostel

233 Willesden Lane, NW2 5RP [map]

Hillspring Lodge is a boutique hostel with a contemporary and relaxed feel and plenty of stylish common areas to chill out. Offering private en suite rooms and shared dorms in North London (zone 2).