London Hostels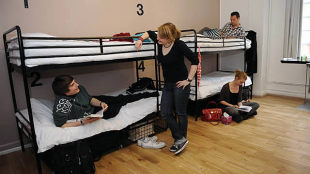 Are you looking for cheap accommodation or cheap hotels in London? Try one of the city's many hostels.
London hostels offer a wide range of prices, services, locations and levels of comfort. If you're looking to meet other travellers, look for hostels with dorms, bars and communal areas. If you'd prefer somewhere quieter, some hostels offer private rooms and ensuite facilities.
You Might Also Like
Campus

Strand Campus, King's College London, Strand Building, The Strand, WC2R 2LS [map]

Kings College Hall is currently closed for refurbishment until 2014/15.

Hostel

100 - 102 Westbourne Terrace, Paddington, W2 6QE [map]

Equity Point is located next to Hyde Park, and near Nothing Hill and Paddington train stations, which makes arrival and departure to the hotel very convenient.