London Hostels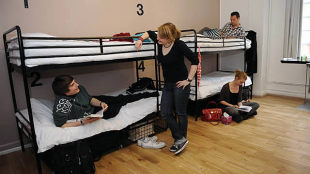 Are you looking for cheap accommodation in London? Try one of the city's many hostels.
London hostels offer a wide range of prices, services, locations and levels of comfort. If you're looking to meet other travellers, look for hostels with dorms, bars and communal areas. If you'd prefer somewhere quieter, some hostels offer private rooms and ensuite facilities.
You Might Also Like
Hostel

121-122 Bayswater Road, W2 3JH [map]

A beautifully converted hotel, the Smart Royal Bayswater is one of the only hostels in Central London to offer ensuite facilities in every room!

Campus

Residences Reception, Sir Christopher France House, Westfield Way, E1 4QA [map]

Individual & Group Accommodation QM offers rooms to visitors at its Mile End campus between mid-June and mid-September each year.

Hostel

Langton Close, Wren Street,

A self-catered hall of residence housing 270 people in a flat format. This property is suitable for group bookings.