Bed and Breakfast in London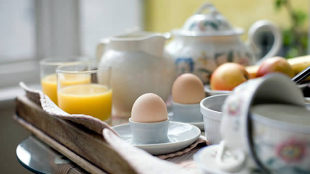 Save money on accommodation by staying in a cheap and friendly bed and breakfast (B&B) in London.
B&Bs and budget hotels are perfect for visitors looking to see London for less. When you're out and about all day, a comfy bed and hearty breakfast are all you need!
As well as being cheaper, B&Bs are often family run so the staff can offer plenty of insider knowledge about London. You can stay centrally or further out as there are B&Bs all over the city.
You Might Also Like
Campus

1-7 Endsleigh Place, WC1H 0PW [map]

A conversion of Georgian houses in a quiet, central location, Passfield offers great value bed and breakfast accommodation with shared bathroom facilities.

Bed & Breakfast

44 Belgrave Road, SW1V 1RG [map]

Small, friendly bed and breakfast hotel within easy access of all major attractions and three minutes from Victoria station.

Hotel

34-40 Great Cumberland Place, W1H 7TW [map]

The Montcalm's luxury suites with opulent extras are rich with glamour and elegance to make your stay an experience you'll always remember.