Rail Operators in London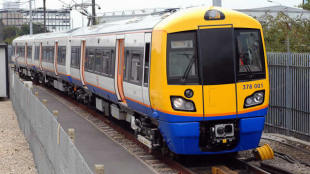 Rail Operator

St Pancras International Terminal, Euston Road, NW1 2QP [map]

Eurostar is the High speed train that has revolutionised travel between London and Europe since 1994.

Rail Operator

Heathrow Express, 50 Eastbourne Terrace, W2 6LG [map]

Serving the world's busiest international airport and carrying more than five million passengers per year, Heathrow Express is one of the most successful high-speed air-rail links in the world.

Rail Operator

Travel anywhere around Britain on one ticket with a BritRail Pass, an exclusive offer for overseas visitors to the UK.

Rail Operator

3rd Floor, 30 Eastbourne Terrace, SW1V 1LQ [map]

The fastest airport transfer between Gatwick Airport and Central London is the Gatwick Express.

Rail Operator

East Coast House, 25 skeldergate, York, YO1 6DH [map]

We're one of the UK's busiest long distance train operators transporting our customers right into the heart of the cities we serve. Our best deals are available when you book direct at eastcoast.co.uk

Rail Operator

Get to the heart of the capital in the fastest and most stylish way possible.

Rail Operator

Castor Lane, South Bromley, E14 0DS [map]

Rail Operator

Go-Ahead House, 26-28 Addiscombe Rd, Croydon, Surrey, CR9 5GA [map]

Rail Operator

French Railways House, 179 Piccadilly, Mayfair,

Airport Transfers

London Liverpool Street Station, Stansted Airport Station, EC2M 7PY [map]

Stansted Express is the fastest and most direct way to travel from Stansted Airport to central London. Trains run every 15 mins, seven days a week. Train station directly below airport terminal.
You Might Also Like
Rail Operator

St Pancras International Terminal, Euston Road, NW1 2QP [map]

Eurostar is the High speed train that has revolutionised travel between London and Europe since 1994.

Rail Operator

East Coast House, 25 skeldergate, York, YO1 6DH [map]

We're one of the UK's busiest long distance train operators transporting our customers right into the heart of the cities we serve. Our best deals are available when you book direct at eastcoast.co.uk