Communications in London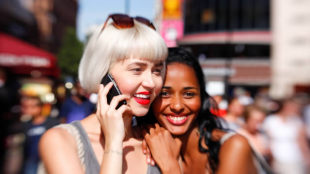 London is at the forefront of communications technology. You can expect free
wireless access (WiFi)
at many restaurants, cafes and hotels and some Tube stations. Note that you will often have to ask for the passcode from the venue's staff. 
There are also numerous internet cafes and international call centres.
London has excellent mobile phone service coverage and you may want to consider buying a local SIM card. Don't forget to download our excellent free London City Guide App.
Roaming and Mobile Service

Vavacom Ltd: Building 3, Chiswick Park, 556 Chiswick High Road, W4 5YA [map]

UK SIM Cards. With Flyconnected, get a local UK SIM and arrive in London UK connected and contactable. Avoid roaming huge charges on your cellphone or iPad with a local UK SIM. www.flyconnected.com

Internet Café

305 Plumstead High Street, Plumstead, SE18 1JX [map]

International Calls Centre

197 Lordship Lane, Tottenham, N17 6XF [map]

Internet Café

44 Chatsworth Road, Lower Clapton, E5 0LP [map]

Internet Café

163 Trafalgar Road, Greenwich, SE10 9TX [map]

Internet Café

689 Seven Sisters Road, South Tottenham, N15 5LA [map]

International Calls Centre

343A Station Road, Town Centre, Harrow, HA1 2AA [map]

Internet Café

2B Herbert Road, Woolwich, SE18 3SH [map]

Internet Café

31 The Village, Charlton, SE7 8UG [map]

Internet Café

90A Leytonstone Road, Stratford, E15 1TQ [map]

Internet Café

42-44 Crown Street, Acton, W3 8SB [map]

Internet Café

120 Junction Road, Archway, N19 5LB [map]

Internet Café

44 Lower Addiscombe Road, Addiscombe, Croydon, CR0 6AA [map]

Internet Café

1A Cambridge Avenue, Kilburn, NW6 5AA [map]

Internet Café

28 Baron Street, Islington, N1 9ES [map]

Internet Café

120 Uxbridge Road, Shepherd's Bush, W12 8AA [map]