1. Camden Passage, Islington
Tucked behind Upper Street in Islington, Camden Passage is a real treasure trove of cute cafes, independent boutiques, vintage shops – where you'll find everything from exquisite one-offs to fun party outfits – as well as an antiques market selling furniture, curios, war memorabilia and various bric-a-brac.  
2. Lower Marsh
Step back a few streets from London's South Bank and you'll find Lower Marsh, a vibrant and historic area chock full of great shops, theatres and eateries (check out the fantastic Scooter Caffe). There's also a Saturday food market that's generally less crowded than nearby Borough.
3. Tumbling Bay Playground 
Part of the newly revamped and reopened Queen Elizabeth Olympic Park site, the exciting Tumbling Bay adventure playground has rock pools, sandpits, tree houses and wobbly bridges alongside all the usual play equipment. When you're all adventured out, revive in the park's Timber Lodge Cafe. Entry to the playground is free. Read about more adventure playgrounds in London

4. Abney Park Cemetery
An oasis of calm and quiet in North London's villagey Stoke Newington, Abney Park Cemetery is a lovely spot to wander surrounded by trees, wildlife and the whispers of the dead. If that's your bag, other London graveyards worth visiting include Highgate, Brompton and Kensal Green. Abney Park Cemetery is free to enter
5. Merton Abbey Mills
Located on the River Wandle in South London, Merton Abbey Mills is a picturesque Arts and Craft village with a lovely selection of independent shops and places to eat and be entertained. We recommend going on the weekend for the market, or taking the kids to a show at The Colour House Theatre.
6. The Narrow Boat
It's London Mayor Boris Johnson's pick for sausage and mash and we think this pub is a great find. Tucked alongside Regent's Canal, The Narrow Boat is the ideal mid-ramble rest-stop. Other London Story hidden gems include Gordon Ramsay's pick for fry-ups Vingt Quatre.  
7. Trafalgar Square Cafe on the Square
Hiding in full view, this open-air cafe on Lord Nelson's doorstep has just undergone a snazzy overhaul. Now, as well as taking in the spectacular view and unparalleled people-watching, you also can get your photo taken right next to Nelson, thanks to a handy life-size mural on the wall of the Cafe on the Square.
8. Wilton's Music Hall
A traditional Victorian music hall in London's Tower Hamlets, Wilton's Music Hall has been fully restored in recent years to its former glory. Book tickets to a wide variety of musical or dramatic performances, drop by for a drink in the impressive Mahogany Bar or simply take a tour of this wonderful, historic venue.
9. One New View of St Paul's
For a truly breathtaking view of St Paul's Cathedral and a new perspective on London's skyline, head to the open rooftop of One New Change shopping centre. Once you've taken some pics, grab a City Visitor Trail map from the nearby City of London Information Centre for more hidden gems in the City of London.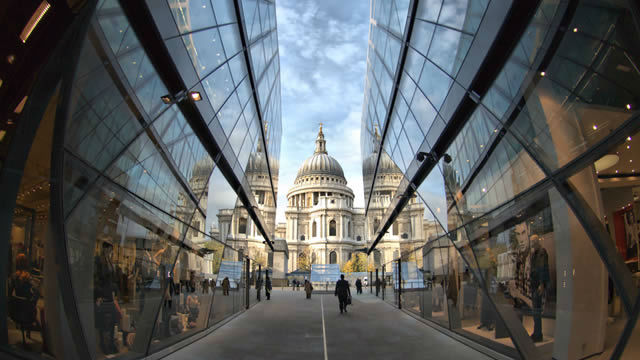 10. HMS Belfast Upper Deck Cafe & Bar
The More London area is a tourist favourite, offering amazing views of the river, Tower of London and Tower Bridge. Those in the know head to the HMS Belfast Upper Deck Cafe, where you can snap away to your heart's content while enjoying a drink or snack (entry to HMS Belfast not required).
11. The Savoy Museum
This small, free museum is located next to The Savoy Hotel's excellent American Bar. The museum displays cards from some the hotel's famous guests, old photographs and vintage alcohol (a vintage cocktail will set you back a mere £5,000). The Savoy lobby is also home to Kaspar the cat, a statue which is used to this day as an extra guest when there's 13 at dinner.
12. Firepower Woolwich 
Discover 700 years of world artillery history at Firepower Woolwich, the world's oldest military museum. Situated in The Royal Arsenal on a quiet-seeming corner of the Thames, this site was secretly one of the world's most important spots for munitions manufacture during the past century, and many of the guns and carriages on display were made on the premises.  
13. Chelsea Physic Garden
This tranquil green space is often forgotten by both Londoners and tourists, which is a shame, as it's utterly charming. A walled space beside the Thames, Chelsea Physic Garden was established in 1673 and is London's oldest botanic garden, containing around 5,000 edible, useful, medicinal and historic plants.
14. Thames Barrier 
Completed in 1982, the Thames Barrier is formed of 10 steel gates which stand five storeys high when raised. As well as preventing London from flooding, the Thames Barrier is an awe-inspiring and surprisingly beautiful piece of engineering that's well worth a visit. Another hidden gem: at low tide, look out for The Diver sculpture.

15. Brunswick House Cafe 
A quirky cafe, restaurant and bar located in a Georgian mansion, Brunswick House Cafe also serves as a furniture emporium for architectural salvage operation LASSCO. Enjoy a coffee or cocktail while checking out antique gems such as stained glass windows, vintage mirrors and light fittings, old fireplaces, tiles, tapestries and more.
16. Fulham Palace 
While many tourists to the UK enjoy a visit to a National Trust property, not everyone expects to find stately homes and palaces in London. Fulham Palace is free to enter and offers a wealth of art, architecture, history and a varied programme of events throughout the year.
17. BAPS Shri Swaminarayan Mandir 
Also known as Neasden Temple, this is the first traditional stone Hindu temple in Europe. The impressive structure incorporates 5,000 tonnes of marble, and sits adjacent to an intricately carved wooden Haveli; a cultural centre. The temple is a sanctuary of Hindu worship that's open to all faiths, all year round. Entry is free.  
18. Secret Bars
London is currently awash with secret bars and speakeasys, all you need do is find one. Or five. Try BYOC in Covent Garden, the Experimental Cocktail Club in Chinatown, Hoxton Square's Happiness Forgets, Belle&Co near Euston, and The Mayor of Scaredy Cat Town, which you enter via a fridge door near Liverpool Street.  

19. St Dunstan in the East 
This church in the City of London was bombed in The Blitz. Rather than restoration, it was decided to turn the ruins of St Dunstan in the East into a public garden. Today, the picturesque space is open to the public daily and is ideal for an impromptu picnic and, of course, some atmospheric photographs. Entry is free
20. Top Views 
London hasn't traditionally been a high-rise city but these days there's lots of spots with spectacular scenery. While not everyone's budget will stretch to dinner, a cheaper option may be to hit the heights for afternoon tea, coffee or a cocktail. Try The Shard, Skylounge, OXO Tower or Vista at The Trafalgar Hotel (closed during winter). More panoramic views of London
Want more? Check out our Secret London itinerary