London Walking Tours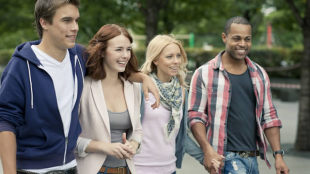 Discover Shakespeare's haunts, get spooked by Jack the Ripper, or follow in the footsteps of your favourite celebrity on a London walking tour.
Guided walking tours take place all year round in London. For many, you can just turn up, pay the tour guide and join in – there's often no need to book unless you are in a large group.
Walking Tour

From to

Tower Hill Underground Station EC3N 4DJ [map]

The story of the Whitechapel murders is one of the great unsolved mysteries in the world. It is also one of the most fascinating and blood thirsty tales you will ever hear. It happened here in London in the year 1888.

Walking Tour

Kemp House, 152 – 160 City Road, EC1V 2NX [map]

The UK's premier provider of TV and film location tours. Bus and walking tours of famous film and TV sites in London and across the UK.

Walking Tour

Meet outside the Ritz Hotel, Green Park Station end., 150 Piccadilly, City of Westminster, W1J 9BR [map]

Walk, smile and discover with The Tour Hub. We offer the Magnificent Mayfair Walking Tour and other unique walking tour & sightseeing experiences. Come and share our passion for this incredible city.

Walking Tour

Piccadilly Circus, W1J 9HP [map]

See the sites that inspired Sherlock Holmes author Arthur Conan Doyle, plus explore some of the locations featured in the books, films and TV series on the Sherlock Holmes Tour.

Walking Tour

Museum of London, 150 London Wall, EC2Y 5HN [map]

Join us for your induction to the capital an essential one hour guide to everything you need to know about London's past present and future From Roman London to the Lord Mayor's Coach the Museum of London has got it covered in this lively informative and informal tour.

Walking Tour

PO Box 1708 London, NW6 4LW [map]

Award-winning guided walking tours of London

Walking Tour

149 Cromwell Road, SW5 0TQ [map]

Offers name-your-own price London walking tours as well as food and bike tours. Guests can pay what they like or what they can afford. Pay-what-you-like tours are tours for every budget!

Walking Tour

All over the City, EC4M 8BX [map]

Take a journey through the heart of London and see some world famous attractions. CVT maps a path through the best the City has to offer and provides great opportunities to go beyond the beaten track

Walking Tour

35 Tower Hill, EC3N 4DR [map]

Walking tours of London only for French speaking tourists.

Walking Tour

233-237 Old Marylebone, NW1 5QT [map]

The East End Food Tour gives a chance to tourists to experience London like a local and Londoners to fall in love with their city all over again by exploring its scrumptious culinary landscape

Walking Tour

Kemp House, 152 City Road, EC1V 2NX [map]

Our innovative and intriguing tours led by expert guides will give you a unique insight into London. Join us for an unforgettable London experience.

Walking Tour

London Central Markets, EC1A 9PQ [map]

Walking Tour

Brushfield Street, E1 6AN [map]

Discover the London you won't find in the guidebooks with London's original off-the-beaten-track tour provider! Come with us to explore the past and present of the capital's cultural and creative hub.

Walking Tour

Brushfield Street, Spitalfields, E1 6AA [map]

Experience an amazing exhibition of colourful street art on a guided walking tour of Brick Lane and Shoreditch, including Banksy, Shepard Fairey, Eine, Roa and other street artists

Walking Tour

58 Netherwood Road, Shepherd's Bush, W14 0BG [map]

Bowlers' walking tours offer a different perspective on London's rich cultural and political history, focusing on art, photography, music, and politics. Led by London artists and writers, they trace the lives of remarkable Londoners and visit sites of significance. There are four tours available, operating every Thursday, Friday, and Saturday.

Walking Tour

Richmond Station, The Quadrant, Richmond, TW9 2AZ [map]

Take a tour through one of London's most historic, and royal, areas.

Walking Tour

PO Box 53131, E18 1UW [map]

Offers a range of London Walking Tours that help visitors and Londoners to discover the past and present of one of the world's greatest cities.

Walking Tour

7 Aberfeldy House, John Ruskin Street, SE5 0SY [map]

Foto Ruta London offers photography tours, experiences and workshops that are designed to encourage people to explore and celebrate London, whilst learning how to take great photos

Walking Tour

97 Queens Gate, SW7 5AB [map]

tour in italiano in diversi itinerari che presentano le attrazioni più famose di Londra. Tour nei musei,passeggiate nei parchi e nei mercatini più esclusivi.Visitare londra non e'mai stato cosi'bello!
You Might Also Like
Walking Tour

All over the City, EC4M 8BX [map]

Take a journey through the heart of London and see some world famous attractions. CVT maps a path through the best the City has to offer and provides great opportunities to go beyond the beaten track

Tour

Outside the Apple Store, Covent Garden Piazza, WC2E 8HA [map]

Enjoy a free walking tour of London in English or Spanish. Discover over 1,000 years of London history and let some of the best expert guides share with you their personal stories and insights.

Walking Tour

PO Box 1708 London, NW6 4LW [map]

Award-winning guided walking tours of London