Here's a selection of the top things to do on a day trip to Oxford from London, from discovering archaeological gems to shopping in style.
Indulge in retail therapy at Bicester Village
Bicester Village is the ultimate destination for world-famous brands and British icons, and a must-see for the fashion-savvy who are looking to discover the best in shopping. Bicester Village is home to more than 130 boutiques, such as fine jewellery and watch boutique L'Atelier, as well as Mulberry and Smythson, and don't miss exclusive summer pop-ups, including French Sole and Courage & Kind.
There's always something interesting to be found at Bicester Village, from its stunning boutiques or unbeatable food offerings from restaurants such as Soho House & Co's farmshop restaurant and café, to the Mediterranean-inspired menu at Villandry Grand Café.
An ideal day-out destination, Bicester Village offers services including free luggage storage, tax-free shopping and the opportunity to earn rewards on your shopping from all the major airline providers' frequent flyer programmes. There are multilingual hosts across the Village to help international guests navigate during their trip and it's also open until 10pm from Thursday to Saturday throughout the summer, making late-night shopping and dining temptingly simple.
Bicester Village is just 46 minutes from London by train from Marylebone Station.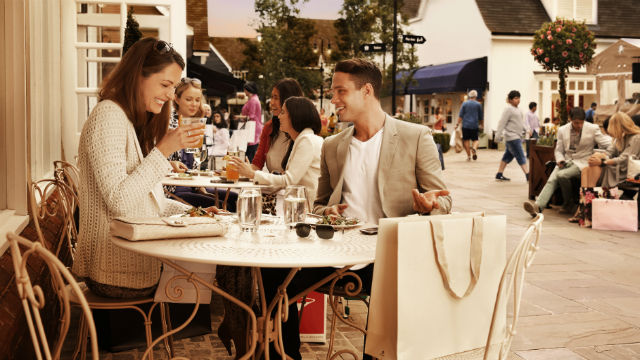 Walk in the footsteps of royalty at Blenheim Palace
London has Buckingham Palace, but Oxford has Blenheim Palace. Located 30 minutes from Oxford city centre by bus, this beautiful 18th-century palace was the birthplace of Sir Winston Churchill and is known as 'the real Downton Abbey'. Must-sees include the amazing art collection, beautiful gardens and Temple of Diana, built in 1773 by Sir William Chambers.
Admire the architecture at Christ Church
Part cathedral, part university college, Christ Church is a popular destination for fans of architecture and design. Sights to look out for include Christopher Wren's Tom Tower; the cathedral's famous spire; the stunning stained-glass windows, and the striking Meadow Gate. Nature lovers will also enjoy a wander around the Christ Church meadow, with its grazing cattle and peaceful surroundings. You're definitely not in London any more!
See Guy Fawkes' lantern at the Ashmolean Museum
Opened in 1683, the Ashmolean is the oldest public museum in Britain. As Oxford University's museum of art and archaeology, it unsurprisingly has a world-class collection – featuring everything from Egyptian mummies and pre-Raphaelite art to Guy Fawkes' lantern and Laurence of Arabia's robe. Look out for what's on in the temporary exhibitions too. Before you go, don't forget to check out the gift shop – and if you're feeling peckish, grab a bite to eat in the rooftop restaurant.
Start planning your day trip to Oxford now!