London Souvenir Shops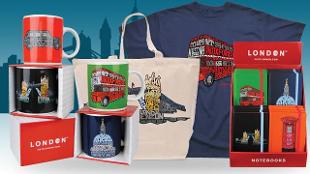 Buy souvenirs to remember your visit to London, at the best gift shops in town. There are plenty of places to pick up London gifts but these are some of the best.
Find gifts to take home with you on
the official visitlondon.com online shop
. Alternatively, below is a guide to the best souvenir shops in London, where you can find London mugs, T-shirts, maps, posters, prints and guides.
Souvenirs

Treat yourself to official London merchandise from the visitlondon.com shop.

Souvenirs

Head Office, 11 Bentinck Street, Marleybone, LONDON, W1U 2EP [map]

Brilliant souvenir stores in the heart of London.

Souvenirs

Broad Sanctuary, Westminster, SW1P 3PA [map]

Abbey Bookshop is located within Westminster Abbey and sells a range of souvenirs, books, guides, ornaments and postcards.

Souvenirs

7 Buckingham Palace Road, Victoria, SW1W 0PP [map]

Buckingham Palace Shop sells an array of gifts including books, soft toys, mugs and T-shirts.

Souvenirs

20 Cockspur Street, St James's, SW1Y 5BL [map]

Crest Of London is a chain of gift shops that sell London souvenirs such as T-shirts, postcards, and pencil cases as well as London guides, underground maps, umbrellas and sunglasses.

Souvenirs

Buckingham Palace Road, Victoria, SW1W 0SR [map]

Royal Mews Shop sell a range of books, guides, china, toys and confectionery.

Souvenirs

Tower Place, The City, EC3R 5BT [map]

Tower Gifts sell a wide range of gifts including silverware, toys and greeting cards.

Department Store

181 Piccadilly, W1A 1ER [map]

Fortnum & Mason is a unique and beautiful store. Fortnum's is renowned as purveyors of fine foods, hampers, teas and wine. It has five restaurants, including a wine bar and ice cream parlour.

Department Store

Regent Street, W1B 5AH [map]

Liberty is one of the last great emporiums for innovative and eclectic design. Explore five floors of fashion, beauty, accessories and homewares to find a selection of beautiful and luxurious products

Toys

188-196 Regent Street, London, W1B 5BT [map]

Experience the magic of Hamleys. This legendary store has seven floors brimming with the latest crazes, computer games, traditional teddies and specialist collector items.

Home & Gift

81A Marylebone High Street, Mayfair, W1U 4QL [map]

Department Store

87-135 Brompton Road, Knightsbridge, SW1X 7XL [map]

Harrods continues to astonish and intrigue customers from around the world with first-class service, retail theatre and product quality, not to mention an unmatched international brand selection.

Home & Gift

150 Strand, Charing Cross, WC2R 0RN [map]

Wide selection of merchandise inspired by the wonderful collection of artworks displayed in The Courtauld Gallery. Products range from fine jewellery to books and prints, postcards and stationery.

Collectables

London Transport Museum, Covent Garden Piazza, Covent Garden, WC2E 7BB [map]

Home & Gift

150 London Wall, The City, EC2Y 5HN [map]

The Museum Of London Shop sell an assortment of gifts and memorabilia relating to London.

Children's Clothing & Accessories

23 Caxton Street, SW1H 0PY [map]

Built in 1709 to provide an education for poor children; in use as a school until 1926.

Home & Gift

New Globe Walk, Bankside, SE1 9DT [map]
You Might Also Like
Souvenirs

Head Office, 11 Bentinck Street, Marleybone, LONDON, W1U 2EP [map]

Brilliant souvenir stores in the heart of London.