Shopping for Kids in London: Clothes and Accessories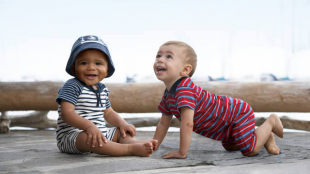 Take the kids shopping and kit them out in London's finest clothing. Join the celebrity parents in Primrose Hill, or seek out unique children's clothing on Brick Lane.
From big department stores offering the latest designer looks for kids, to budget high street buys, to independent shops, you'll find a great range of kids' clothing in London.
You Might Also Like
Home & Gift

National Gallery, Trafalgar Square, WC2N 5DN [map]

There are three shops within the National Gallery, open daily from 10am to 5.45pm (Fridays until 8.45pm) and the online shop www.nationalgallery.co.uk. With a broad range of products inspired by the…

Home & Gift

The British Museum, Great Russell Street, Bloomsbury, WC1B 3DG [map]

Shop at the British museum. You can buy books, children's toys and gifts, souveniers, replica sculptures, jewellery, silk scarves and ties.